A new project on the Kickstarter crowdfunding platform seeks to provide a solution to using your gaming laptop away from a traditional desk or table top. The Hover X provides a surface for your laptop, your mouse and an integrated smartphone/tablet stand. This vented 'lapdesk' or 'lapboard' is constructed from laminated bamboo.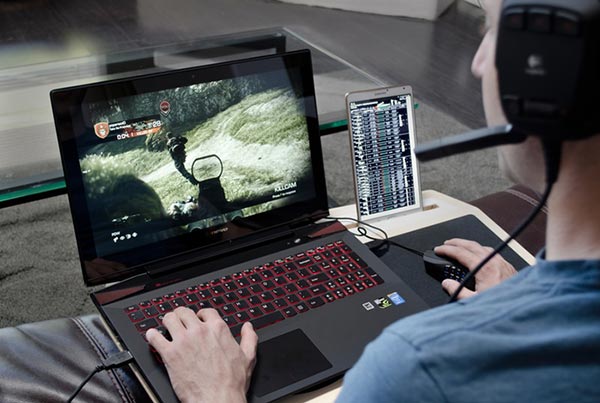 We've seen similar ideas pass by the HEXUS news desk before, such as the ROCCAT SOVA, and the CouchMaster lapdesk by Steiger Dynamics. However these accessories are aimed at PC gamers in the living room who want to play games on their large screen TV from the comfort of the sofa. They aren't built for laptop use on a comfy chair or sofa.
Gaming laptops are compact self contained powerhouse machines – but all PC gamers seem to love the mouse for gaming, therefore a mousing surface at the corect level for your laptop is pretty essential. As you find yourself in different places and situations with your gaming laptop sometimes you might fancy the comfort of the sofa and that's where the Hover X comes in.
The Hover X helps solve a multitude of gaming laptop user problems; user posture, heat and mouse-loss among them and should enhance your gaming activities where you can't or don't want to sit at a traditional desk or table. The designers have implemented the following features:
A built-in extra large mouse pad – on the right – sorry left handers
Compatible with laptops from 11 – 15-inch screens and the Hover X+ can accommodate up to 17-inch machines.
'Premium bamboo' construction, with vents under the laptop
Mobile dock to fit most tablets and smartphones. The dock is acrylic with felt lining to avoid causing abrasions upon your device.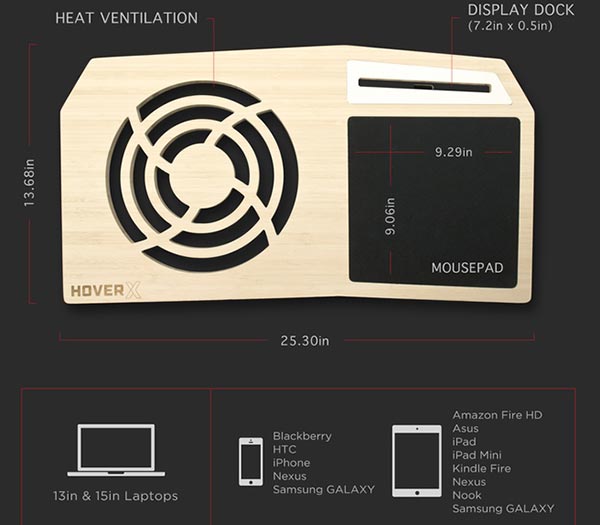 Looking at pricing, there is currently a funding tier at $98 still available for 13 – 15-inch version of the Hover X and $138 for the 17-inch version. The first batch of these lapdesks is expected to ship by June 2015. After the Kickstarter project is over retail prices will range from $150 to $200. The project has successful broken through its modest $5,000 funding goal and is currently at nearly double that level with 28 days to go.