Toshiba has unveiled its new Portégé Z20t Ultrabook at the CES this week. This machines is a laptop/tablet convertible with a 12.5-inch screen that is set to take on well established offerings like the Microsoft's Surface Pro 3 and Lenovo's Yoga line, as well as the newly announced ASUS Transformer Book Chi range .
The new Portégé is targeted at business users, offering a premium design and extensive battery life. It runs on a low-power consumption Intel Core M processor that enables the portable hybrid to achieve up to 9.1 hours with battery life with just the tablet, and 17.5 hours with the help of the included keyboard dock. In addition, the power-sipping CPU allows for a silent, fanless design.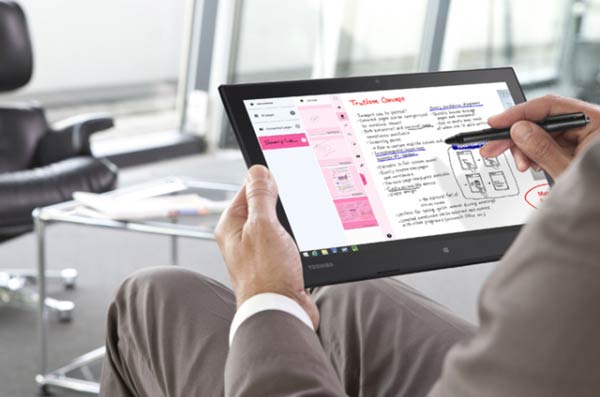 We saw the first details of the Toshiba Portégé Z20t when it was launched back in November but as a reminder, compared to the Surface Pro 3, the Portégé Z20t comes with an even thinner and lighter design, measuring just 8.8mm thick and 799g for the tablet alone, as opposed to 9.1mm thick and 800g for the 12-inch SP3. However the screen offers a much lower resolution than the Surface Pro 3, the Portégé's 12.5-inch 1920 x 1080 IPS display equates to 187PPI. The Windows convertible is both foldable and reversible, allowing users to set it up to stand upright for presentation situations.
Toshiba is offering options for either 128GB or 256GB SSD storage, paired with 4GB or 8GB of on-board LPDDR3 main memory. Connectivity wise, there is 802.11ac wireless onboard, along with Bluetooth 4.0. The tablet part of the device features microHDMI, microUSB and microSD ports, and the dock adds a full-size RGB, HDMI, Gigabit Ethernet and two USB 3.0 ports. Additionally, the keyboard has a Kensington lock slot with a mechanism which prevents it's from unlatching the tablet when it's connected to the locked-up dock.
Stylus fans might be happy to know that the Portégé Z20t Ultrabook can be bought with an optional Wacom digitiser pen which has 2,048 levels of sensitivity for natural and more accurate pen-on-paper writing experience.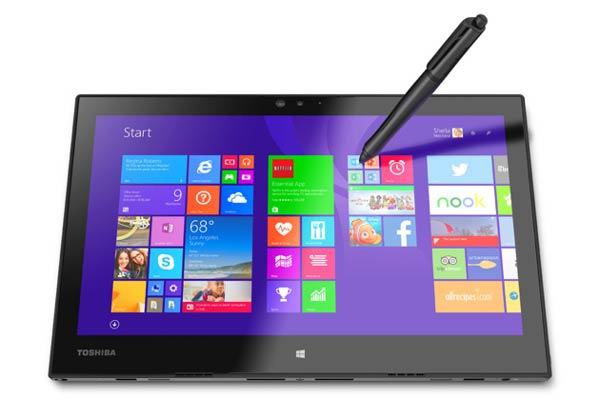 Updated info on this hybrid device from the International CES includes that fact that the Portégé Z20t will go on sale this January, with prices starting from $1,399. You can also grab the slate as a standalone tablet (referred to as the WT20 by Toshiba) which lacks the keyboard dock and stylus digitiser for $899 starting from February.