ASUS has launched its Transformer Book Chi Series at the CES in Las Vegas. There were four models shown off on stage; the Transformer Book T90 Chi, Transformer Book T100 Chi, Transformer Book T300 Chi (in two configurations). All of the models are said to be fast but silent, thanks to the use of the newest Intel processors. ASUS claims that the T90 Chi and T100 Chi are the thinnest Windows tablets in their respective screen sizes and that the flagship T300 Chi is slimmer than the Apple MacBook Air yet boasts a better screen and superior performance. These are all Windows 8.1 machines.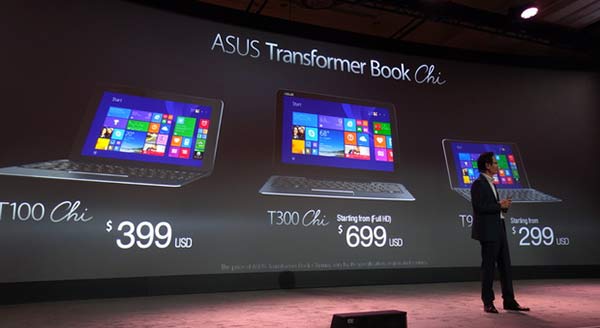 ASUS Transformer Book T300 Chi
This is the flagship and most expensive 2-in-1 revealed by ASUS last night. It was shown in two configurations, with a 1080p screen for $699 and with a 2560 x 1440 pixel screen for $799. Though Jonney Shih didn't mention it on stage the processors also vary, you get either the Intel Core M 5Y10 processor @0.8GHz or Intel Core M 5Y71 processor @1.2GHz respectively at those price points.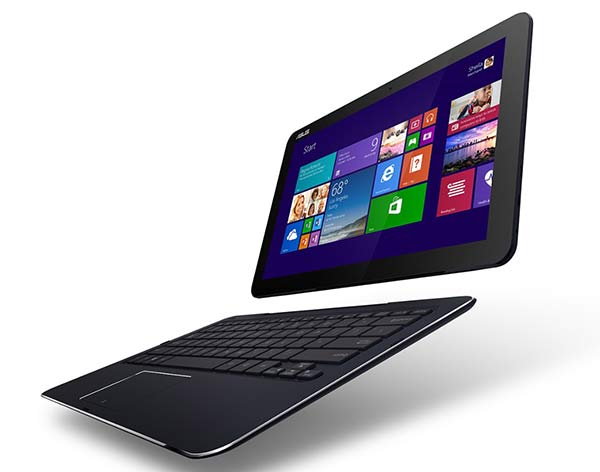 This convertible 2-in-1 PC features a capacitive multi-touch 12.5-inch IPS panel. The tablet on its own measures 7.6mm thick and with the added, included, type cover it is a total of 16.5mm thick. The Transformer Book T300 Chi weighs in at 720g for the tablet alone or 1.45Kg in combination with its keyboard cover. Buyers also get to choose SSD storage of either 64GB or 128GB and RAM of either 4GB or 8GB. The machine offers Wi-Fi 802.11 a/b/g/n and Bluetooth connectivity. A front facing 2MP webcam rounds off the package.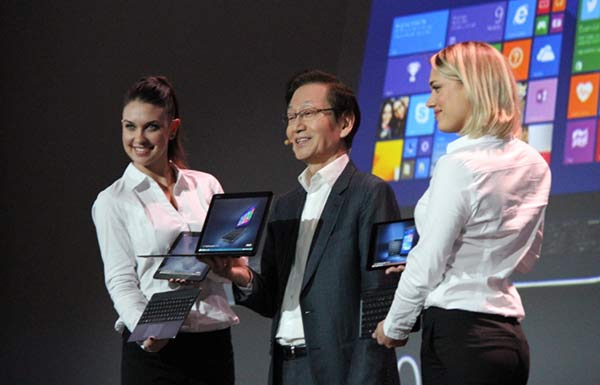 Shih repeatedly compared the T300 Chi to the MacBook Air by describing the new ASUS as "clearer than Air," "thinner than Air," "more powerful than Air," and so on.
ASUS Transformer Book T90 Chi and T100 Chi
The Transformer Book T90 Chi and T100 Chi use 8.9-inch and 10.1-inch screens and measure 7.5mm thick and 7.2mm thick respectively. Key specifications for these 2-in-1s are pretty similar with both packing a Quad-core Intel Atom Z3775 Processor BayTrail-T @1.46GHz with a choice of 1 or 2GB or RAM and 32/64GB of eMMC storage. They also both feature a front 2MP camera and back 5MP camera. Wi-Fi 802.11 a/b/g/n and Bluetooth connectivity is also standard.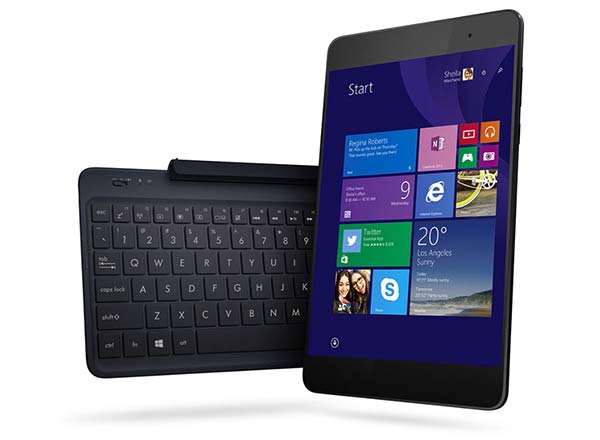 Concerning size and weight the T90 Chi is 7.5mm thick and 400g as a tablet and 16.5mm thick and 750g combined. The T100 Chi 7.2mm thick and 570g as a tablet and 13.2mm thick and 1080g combined. The smaller tablet comes with a 1280 x 800 IPS screen but the larger one offers full HD. Both these smaller 2-in-1s are significantly cheaper than the flagship with the T90 Chi priced from $299 and the T100 Chi from $399.
The ASUS Transformer Chi range will be available starting from next month.