Toshiba has announced the Satellite Radius 11 (L10W-B) convertible laptop/tablet. This hybrid device owes its 2-in-1 capability to a 360 degree hinge to provide laptop, the ever-so-useful tabletop and tablet modes of operation. Tent and presentation modes are also available (see picture below). Toshiba says this new 11.6-inch Windows 8.1 device is "Ultra mobile, super light" and is available with a choice of Intel Celeron and Pentium processors. According to Liliputing the Satellite Radius 11 will become available in North America from 26th October starting at a price of $330.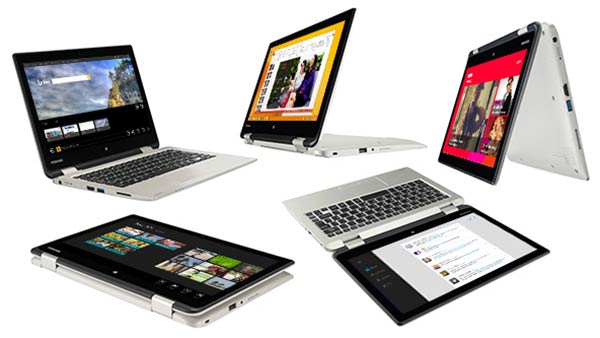 Specifications of the Satellite Radius 11 include the aforementioned choice of Intel Celeron or Pentium processor, up to 4GB of RAM, 32GB SSD or 500GB HDD, an 11.6-inch touch screen with a resolution of 1366 x 768 pixels and Intel HD graphics, 1 x USB 3.0 port, 1x USB 2.0 port, SD card slot, HDMI port, HD webcam and stereo DTS enhanced sound. This 11-inch convertible weighs 1.3Kg and is finished in satin gold. Its keyboard is a frameless tile type (scrabble tile) and that is complemented by a "large touchpad".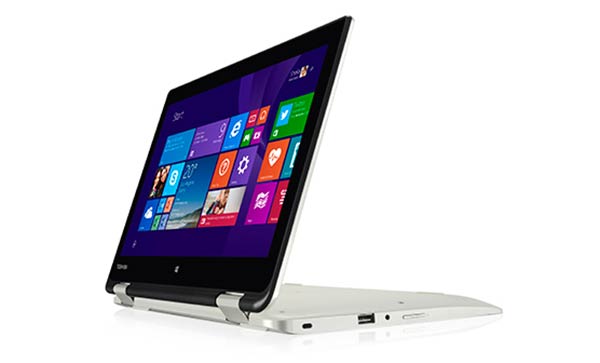 Toshiba says that this convertible, the latest in its Satellite range, features "prismatic batteries… just like the ones found in smartphones," to provide more charging cycles.

Being priced from $330 it goes head to head against a growing number of smaller portables, hybrids and 2-in-1 designs at these lower price points. The greater RAM provisions and Celeron/Pentium processors should make it a step above the Atom-based competition in performance. However you do pay more for that performance and we don't have enough details about the Satellite Radius 11 processor options and battery life to consider it in depth right now.