The HP Stream was one of the new budget priced laptops boasted about at Microsoft's Worldwide Partner Conference in mid-July. We reported upon that price assault plan, facing off against Google Chromebooks, and the subsequent unearthing of the official data sheet describing this new HP Windows 8.1 laptop and its components.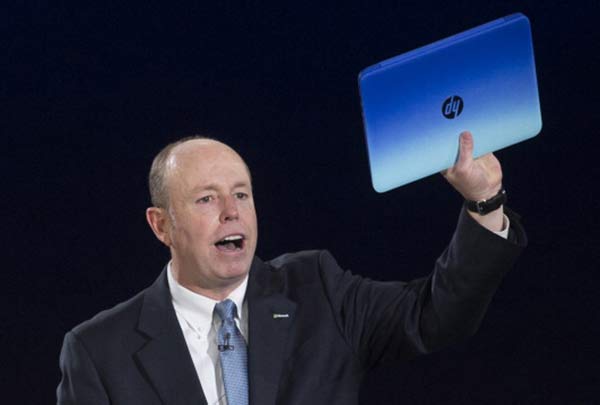 Microsoft COO Kevin Turner - HP Stream $199
This 'Chromebook Killer' was expected to be launched among the other HP products at IFA last week but it was postponed until Monday. PC World magazine reports that the 14-inch HP Stream has now belatedly shown up and is priced at $300 upwards, depending upon configuration. While that $300 price doesn't sound as groundbreaking as $199 for such a Windows laptop, it is noted that HP prices its 14-inch Chromebooks around the same level. In another comparison we have recently seen the 14-inch HP Slatebooks (running Android and including touchscreens) launched at $429.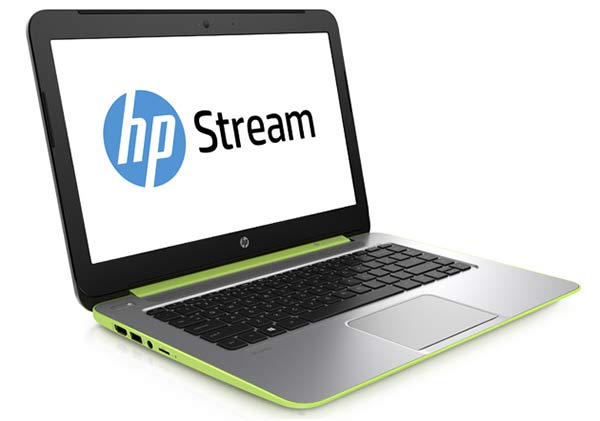 HP Stream with grass green accent
Other than the price, the spec we did have on the HP Stream laptop seems to be correct. The beating heart of the HP Stream is an AMD Mullins A4 Micro-6400T which is a 4.5W TDP quad core processor running at 1.6GHz. It's a 14-inch 1,366 x 768 pixel display equipped machine. Looking at its memory, it includes 2GB of RAM and 32GB of fixed storage. Sockets and connectivity includes a microSD slot, HDMI out, one USB 3.0 and two USB 2.0 ports, 802.11b/g/n Wi-Fi and Bluetooth. Its moderately portable at 17.8mm thick and 1.75Kg in weight. We are also told to expect about six and a half hours of computing on the go, thanks to the 3 cell 32WHr battery.
The HP Stream laptop will go on sale in the US from 24th September and will be made available in a choice of accents; Grass Green, Modern Silver, and Neon Purple.