Asus has taken the stage at Computex today, showing off a range of new products including two new Android hybrid Transformers and the Windows powered Zenbook NX500, at a special press event. In addition to the ASUS Transformer Flip we wrote about earlier, the following products were launched:
Transformer Book V – laptop/tablet/smartphone with Windows/Android
The 12.5-inch Transformer Book V is, according to Asus, "the world's first five-mode, three-in-one converged laptop". It is a flexible device which can be used as a Windows and Android laptop or tablet, as well as an Android smartphone and comprises a laptop with a detachable HD IPS display and a 5-inch smartphone which can be docked into the tablet/ screen.

Running on Android 4.4 KitKat and Windows 8.1, the 0.8kg device is the first to run on Intel's 64-bit quad-core Atom (Moorefield) chip with LTE radio. When docked, the Transformer Book V includes a dedicated hardware button which will allow users to instantly switch between the Google and Microsoft operating systems. It comes with ample storage of up to 1TB built-into the 7mm-thick keyboard dock.
Once the screen is detached, it only takes a tap on the touchscreen to switch between the OSes and this tablet features up to 128GB of built-in storage. The detachable 140g 5-inch screened 4G phone, a 11mm-thick device which runs on Android 4.4, features 2GB of RAM, up to 64GB of storage, 8MP/2MP cameras and a 2,500mAh battery which can provide up to 10 hours of browsing time.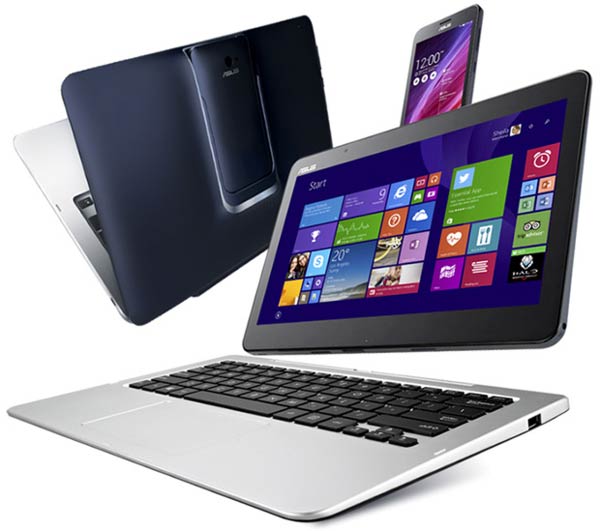 Transformer Book T300 Chi – Surface Pro 3 competitor?
The Transformer Book T300 Chi is touted as the "world's thinnest 12.5-inch tablet display," measuring just 14.3mm-thick with the keyboard dock attached. The tablet alone is just 7.3mm-thick and features LTE support and is equipped with a 2560x1440 WQHD IPS display. The Transformer Book T300 Chi is powered by a next-gen high-performance, low-power Intel Core processor and sports a fanless design. It runs Windows 8.1.
Zenbook NX500
Next we come to the Zenbook NX500, a thin and lightweight laptop sporting a 4K/UHD screen. This 15.6-inch Ultrabook packs a 3840x2160 screen and is powered by an Intel Core processor (up to i7 quad-core), up to 16GB of RAM and up to NVIDIA GTX 850M graphics, supported by 2GB of GDDR5 video memory.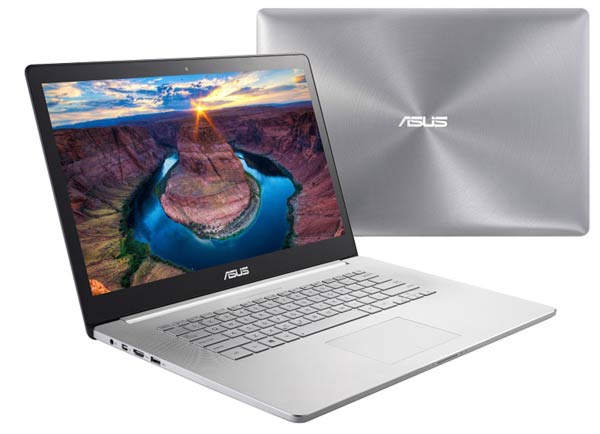 This laptop measures just 19mm thick and weighs 2.2kg. The screen uses Asus' "VisualMaster" display technology with a wide colour gamut (100% NTSC/108% Adobe RGB factory-calibrated colour temperature) in order to deliver crisp, accurate graphics and text. The 4K display combined with Bang & Olufsen ICEpower is said to provide "truly incredible video and sound quality for exceptional entertainment experiences".
Even more ASUS gear
Asus also revealed a refreshed range of tablets today; the MeMO Pad 8 dubbed "the world's lightest eight-inch LTE tablet," and the Fonepad 8.
"The world's fastest tri-band 802.11ac Wi-Fi router," the RT-AC3200 router was also launched. The ASUS ProArt PA328Q 4K/UHD monitor, a 32-inch 4K/UHD (ultra-high-definition) monitor aimed at professionals was launched and a new 19.5-inch touchscreen All-in-One PC, the AiO PT2001 was launched.