Today Aorus emailed HEXUS to tell us about the refreshed AORUS X7 gaming laptop it will be exhibiting at Computex Taipei 2014, next week. The original Aorus X7 was launched at CES 2014 this January and certainly made waves thanks to its slim profile paired with very powerful mobile components.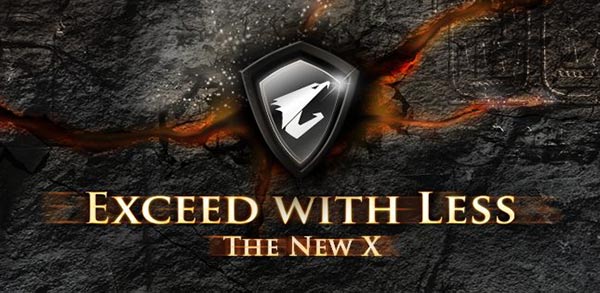 Less heat and noise?
HEXUS was happy to review the Aorus X7 gaming laptop shortly after its unveiling in Las Vegas and found that it offered great gaming performance on the go, a comfortable built-in backlit keyboard, superbly fast storage, excellent sound and multi-screen options. The only drawbacks were the so-so battery life and the cooling system's tendency to get loud during gaming.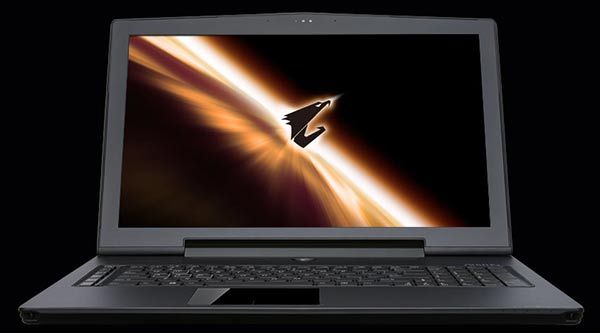 So what does the refreshed Aorus X7 bring to the table? Well the Aorus x7 information pages handily show a comparison table (scroll down) with the differences highlighted in orange – I wish every hardware manufacturer was so considerate. Please refer to the table below.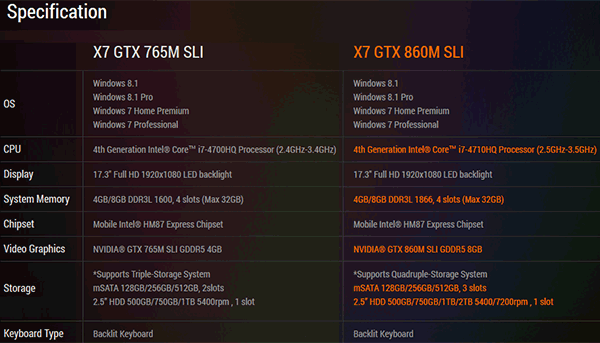 There are several more specs and comparisons listed on the official site but the only other difference, not shown above screengrab, is that the webcam component has been 'downgraded' from a 1.0/1.0 megapixel part to a 1.0 megapixel part. All the other specs including I/O port types and count, audio, communications, battery, dimensions and weight are exactly the same.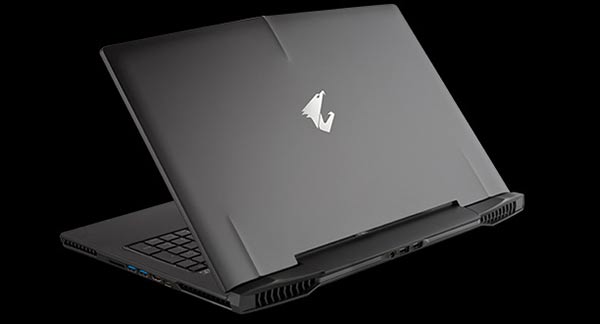 So it's quite clear to see the upgrades; the slightly faster Intel Core i7-4710HQ Processor, the use of 1866MHz RAM, the quadruple-storage system and the headlining upgrade to a pair of Nvidia GTX 860M cards in SLI with 8GB of GDDR5 RAM between them.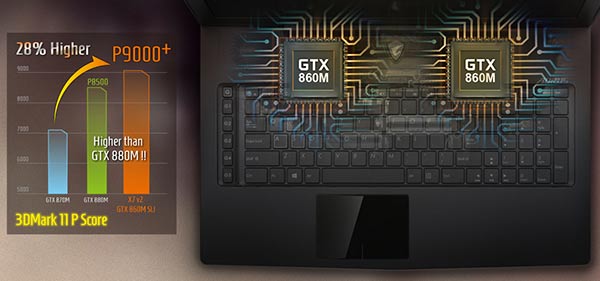 Without knowing the exact model of GTX 860M chips Aorus is using in the new X7 it's hard to say whether there will be any ironing out of battery life and fan noise wrinkles we saw in the original version. While the new GPU specs propel this laptop past a P9000 score in 3D Mark 11 there are two versions of the GTX 860M mobile graphics chip from Nvidia. The Maxwell variant with 640 cores and a 45W TDP, and the Kepler variant with 1,152-cores and a 75W TDP. We'd hope it's the Maxwell part for optimum mobile computer gaming.