Intel and several other major tech companies got together in San Francisco yesterday to unveil a wide ranging new lineup of Chrome devices. We saw the first such devices powered by Intel Celeron Chips based upon the Bay Trail-M SoC and at the other end of the performance scale a new class of Chromebooks based around Haswell Core i3 processors. These i3 Chromebooks will be the most powerful yet and Intel proudly boasted of delivering the "Best Performance and Battery Life for Every Price Point" - obviously comparing its new flock to the ARM powered alternatives.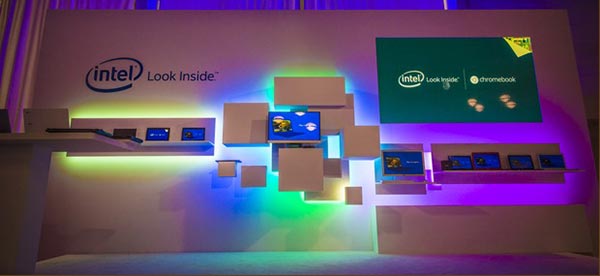 Intel's Navin Shenoy, vice president and general manager of Intel Mobile Client Platforms Group co-hosted the event with Google's Caesar Sengupta, vice president, product management, Chrome OS at Google and were met on stage by execs from various companies such as Acer, Dell and Lenovo.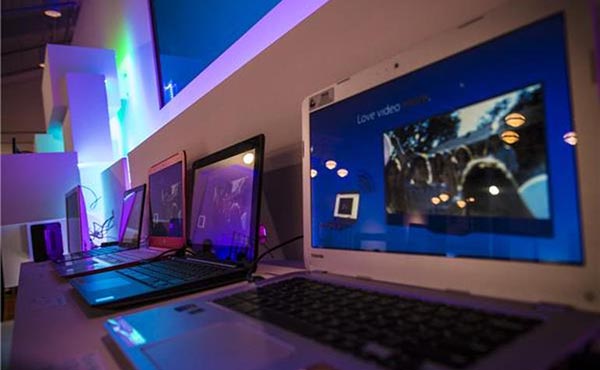 "Intel has grown to become the No. 1 microprocessor in Chrome systems," said Shenoy. "We've been working on five generations of Chrome and after Google, Intel is the largest contributor to the Chromium OS. Intel chips are the first and only to support 64-bit Chrome OS. This deep history and investment combined with our stellar Bay Trail and Haswell SoCs mean Intel can offer the best performing devices at every price point in the Chrome category. When people are shopping for Chrome devices, they should look for Intel Inside." Google's Sengupta also came forward to remind us how well Chromebooks are selling on Amazon.com - accounting for two of the top three laptops in the sales chart.
Celeron
Chromebooks packing the Intel Celeron Chips based upon the Bay Trail-M SoC will offer up to 11 hours of battery life. We also hear that these designs will be fanless, for a closer to tablet experience. ASUS, Acer, Lenovo and Toshiba have already announced some Chromebooks running on this family of processors. ASUS will launch a C200 and C300 Chromebook with 11.6 and 13.3-inch screens respectively. Acer has one thin fanless design in production. Lenovo has two; the N20 Chromebook and N20p Chromebook. The 'p' model boasts Lenovo's ever more familiar multi-mode design with a touch screen incorporated too. Intel also previewed its Education Chromebook reference design based upon similar specs.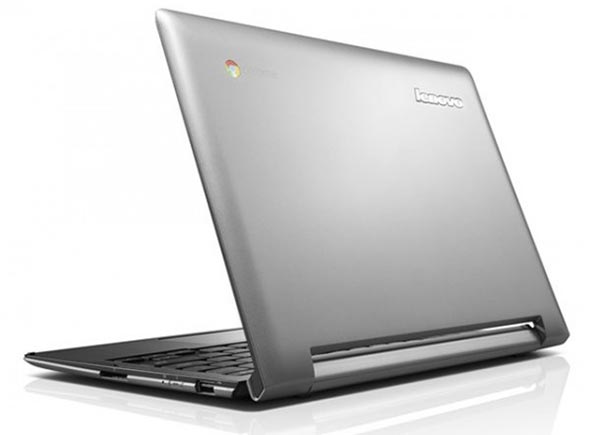 Core i3
Chromebooks featuring this 4th gen Intel processor are to be the fastest yet, we are told. This will help ChromeOS users keep a peppy level of performance even with multiple tabs open with media rich web pages, running various web apps and taking part in Google Hangouts with multiple parties. Dell and Acer will be making such devices. Dell will bring the new configuration into its Chromebook 11 range, popular in US schools. Acer will expand its C720 Chromebook range with the Core i3 processor. Expect this updated Acer to arrive early in the back-to-school season for $349.
Microsoft takes a shot at a $199 laptop
As reported on eWeek yesterday, Microsoft's one-day special US$199 sale on Asus X200-MA Windows 8 touchscreen laptop computers ended just six hours after it had started. It seems that the lack of stock available to people who tried to make an order after 9am EDT has provided a negative experience for many on what should have been a positive event for Microsoft. (The sale started at 3am EDT) Exactly how much stock was reserved for this special sale is unknown. Will this event's sales success influence OEMs to make yet cheaper Windows notebooks to compete with Chromebooks at the low end?