Intel has unveiled a new 2-in-1 device aimed at the education market. Called simply the Intel Education 2-in-1, it is hoped to bring Intel's 2-in-1 vision of the computing future to schools and colleges. This new product promises the "mobility of a tablet plus the performance and productivity of a laptop". Being aimed at schools it has a ruggedized design and is resistant to knocks, liquids and dust. Intel has also added a couple of features to this device to make it even more appealing to educators including a snap-on camera magnification lens, stylus and temperature sensor probe.
The last educational products we saw from Intel were launched just over six months ago; a pair of Android based tablets which included, again, a snap-on camera magnification lens, stylus and temperature sensor probe. Well it has now hybridised that idea with its previous education netbook devices and come up with these Intel Education 2-in-1 devices which run Windows 8.1.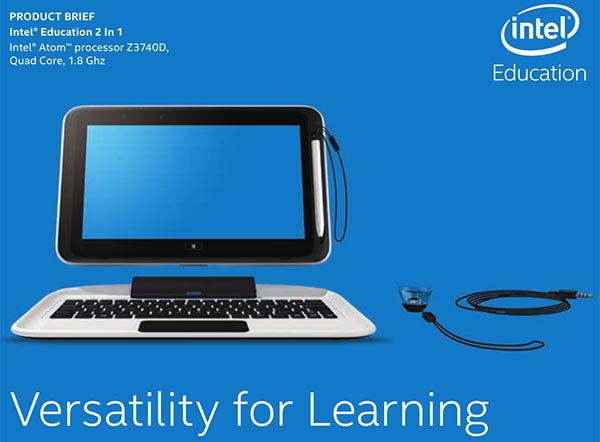 The highlights of Intel's new 2-in-1 computers are listed as follows:
Mobility of a tablet plus the performance and productivity of a laptop
Designed specifically for education
Rugged design with 70cm drop resistance and water and dust resistance
Reversible docking for flexibility to collaborate and create content
Front-facing and rear-facing cameras
Snap-on magnification lens and temperature sensor probe
Up to 7.8 hours of battery life as a tablet and an optional 3-plus hours of additional battery life when docked
As with its previous educational devices we have the trio of 30X magnification lens, stylus and temperature sensor probe capability. The lens and probe work with elements of the bundled Intel Education Software suite which includes Intel Education Lab Camera by Intellisense, the SPARKvue sensor-based data analysis application and Kno Textbooks.
The Elitegroup manufactured Intel Education 2-in-1 has quite a few specifications meant to help it deal with the knocks, bumps and other hazards it might meet in the hands of students. It offers 70 cm drop-resistance (onto concrete), IP51 (dust-resistance, water-resistance), reinforcement around ports and non-slip texture hides wear and scratches.

Product Specifications:
Processor: Intel Atom processor Z3740D, 1.8 GHz, Quad Core
Memory: 2 GB DDR3L-RS – 1333MHz
Storage: 32 GB eMMC, or 64 GB eMMC
LCD/Touch Panel: 10-inch 1366 x 768, wide-viewing angle, 16:9, Active touchscreen, 5-point touch, Stylus Capacitive stylus
Docking: Docking with battery, Docking without battery (optional)
Battery Life: 8 hours, Polymer battery, 7600mAH (28Wh), 3 hours additional docking battery (15 Wh) (optional)
Camera: Front-facing 1.26 MP VGA, Rear-facing 5.0 MP
Dimensions: Tablet: 277.2 x 177.7 x 11.6 mm, Tablet with dock: 281.3 x 231.3 x 27.8 mm
Weight: 683 g (Tablet 3G SKU + Passive stylus), 1,173 g (Tablet + dock + Passive stylus)
Network: 802.11a/b/g/n 2x2 WLAN, supporting WIDI
Connectivity: Bluetooth 4.0, NFC (optional), 3G (optional), LTE (optional)
System I/O: 1 x USB3.0 port, 1 x Micro-SD slot, Audio-Microphone combo-jack, Micro-HDMI, Audio/Speaker/Microphone Integrated audio, stereo speaker, and digital microphone
Sensors: Accelerometer (G-sensor), Ambient Light sensor, E-compass, Gyroscope, GPS (optional)
Operating System: Windows 8.1, 32-bit compliant
Software: Intel Education Software
Security: McAfee AntiVirus Plus
What do readers think about Intel's latest offering to the education market? Is this a better effort than the tablets launched last August?
Intel has yet to publish details about this device's pricing or availability.