In addition to the new iPads shown off last night in San Francisco Apple launched some new products into its traditional personal computer lineup including laptops and desktops and the OS X Mavericks operating system update. Interestingly the Retina display equipped MacBook Pros have been subject to significant price cuts. Also OSX Mavericks will be a free update.
Apple MacBook Pro with Intel Haswell, available now
The Apple MacBook Air and iMac ranges got Haswell updates weeks ago, so it's not such a big surprise that the MacBook Pro range has now got the same architecture updates. Apple boasted about the increase in battery life that the architecture upgrade brings and also managed to make the laptops a little bit thinner and lighter.

Apple talked up the speed improvements on offer in the new MacBook Pros; "New fourth-generation Intel Core i5 and i7 processors help you power through the most complicated technical computing tasks. Integrated Iris and Iris Pro Graphics and new NVIDIA graphics give you tons of pixel-driving horsepower. State-of-the-art I/O like Thunderbolt 2 gives you high-performance expansion unprecedented in a notebook. And at the centre of it all is an entirely flash-based architecture that makes everything you do incredibly fast and responsive. Specs like these define a whole new standard for notebook computing." The new MacBook Pro range are said to be just the ticket for all your photography, video editing, design and layout, science and engineering and even gaming persuits.
The battery life improvements on these notebooks are impressive. The 13-inch MacBook Pro now lasts up to nine hours between charges, and the 15-inch model lasts up to eight hours. Also an instant-on standby time of up to 30 days is claimed.

Other improvements to the MacBook Pro line include the fact that every model uses PCle-based flash storage, they are equipped with the latest 802.11ac Wi‑Fi and Bluetooth 4.0 wireless technology and Thunderbolt 2 is built-in. The 15-inch model also has the choice of bolstering the Iris Pro Graphics with an NVIDIA GeForce GT 750M with 2GB of GDDR5 memory.
Both the 13-inch and 15-inch models of the updated MacBook Pro with Retina display are available now. The 13-inch model has benefitted from quite a price cut, now it starts from £1,099 - £400 less than the previous base model and it features a 2.4GHz CPU, 4GB RAM and a 128GB SSD. The 15-inch model is also cut in price and now this laptop is available from £1,699 for the base model which includes a 2.0GHz i7 CPU, 8GB RAM and a 256GB SSD.
Apple Mac Pro
This new desktop Mac Pro will be shipping in December. The base configuration boasts the following specs; a 3.7GHz Intel Xeon E5 processor, 12GB of RAM, 256GB of flash storage, and two AMD FirePro D300 GPUs for $2,999. Another model with a 3.5GHz 6-core Xeon E5 processor, 16GB of RAM, 256GB of PCIe-based flash storage, and two AMD FirePro D500 GPUs costs $3,999.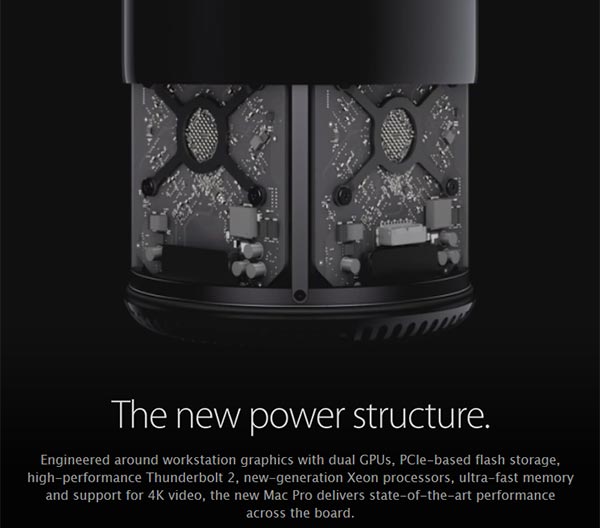 As a new desktop it is undoubtedly powerful – about twice as fast as the previous Mac Pro - and beautifully designed, looking sleek in its 10-inch tall tubular case, but it seriously lacks expansion possibilities via standard PCI cards or internal storage upgrades. It is assumed that users will have to make use of the six Thunderbolt 2 ports and four USB3.0 ports to upgrade its capabilities.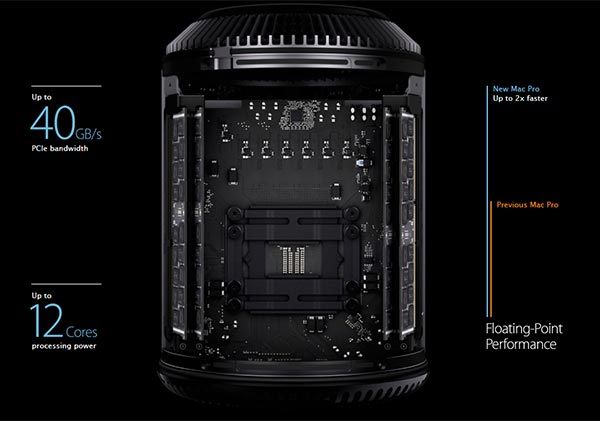 OSX Mavericks
Apple's latest OSX upgrade is available for free from the Mac App Store. The new computers mentioned above all come with this OS pre-installed. You can read the full scoop about what's new on the Apple site. In summary Mavericks appears to offer in the main a range of key apps from the iOS ecosystem, mobile-style notifications, password management, tabbed finder windows, file organisation tags and most importantly - fully configurable multiple display support.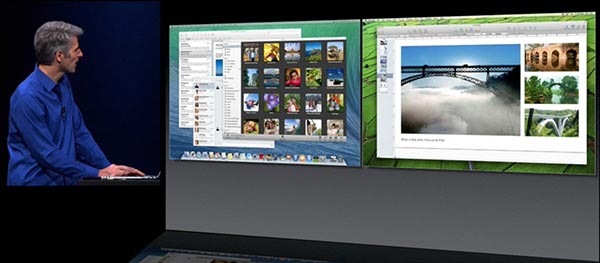 Other changes and tweaks to the OS core are said to improve battery life on laptops, improve compressed memory tech and improve graphics responsiveness.