ASUS has revealed some upcoming 2-in-1 devices which fall into Intel's 'new' 2-in-1 mobile category. The Transformer Book T100 is based upon the new Intel Atom 'Bay Trail' quad-core processor and runs Windows 8.1. Additionally the T300 is a 13.3-inch Full HD version of the T100 but powered by a 4th generation Intel Core processor. ASUS also launched the Transformer Book Trio; powered by either a 4th generation Intel Core processor when docked or an Intel Atom processor in tablet mode. The Trio can also switch between Windows 8 and Android 4.2 OSes.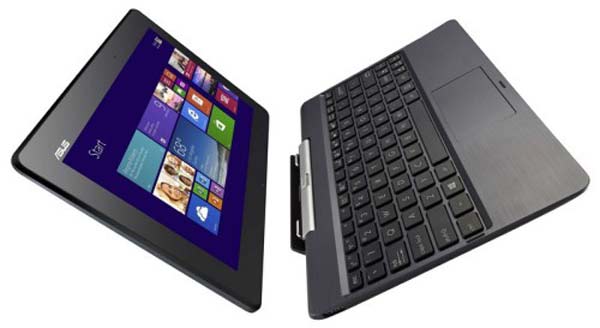 Transformer Book T100
ASUS Chairman Jonney Shih called the Transformer T100 "truly a game-changer for our mobile lifestyle". He said it is the "perfect transformation of the Eee PC with full compatibility, detachable touch screen, immersive entertainment and enough battery for all-day computing." From that statement you know that this is a budget priced 2-in-1 which is a hybrid of ASUS netbooks of old and new tablet technology.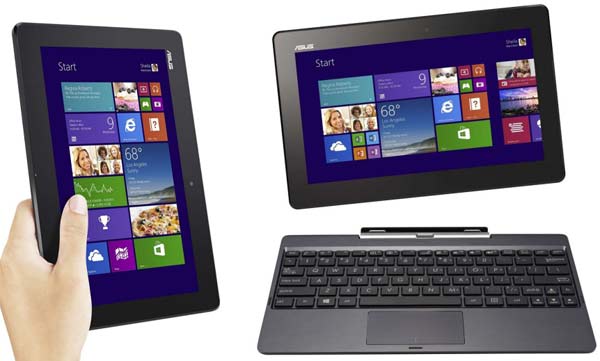 The specs we have for the T100 from the ASUS press release are not very detailed but are broad indications of what is under the bonnet. First of all we know the T100 features the new Intel Bay Trail-T Z3740 quad-core processor, ASUS says this offers smooth multi-tasking performance yet delivers 11 hours of battery life. The T100's 10.1-inch multi-touch screen is of the IPS type and offers a 1,366x768-pixel resolution. Fleshing out the hardware specs we know that the T100 is equipped with 2GB of RAM, micro-USB, micro-SD reader, micro-HDMI, and a single USB 3.0 port in the detachable dock.
On the software side of things the T100 will come with Windows 8.1 installed and Microsoft Office Home & Student 2013 with full versions of Word, Excel, PowerPoint and OneNote.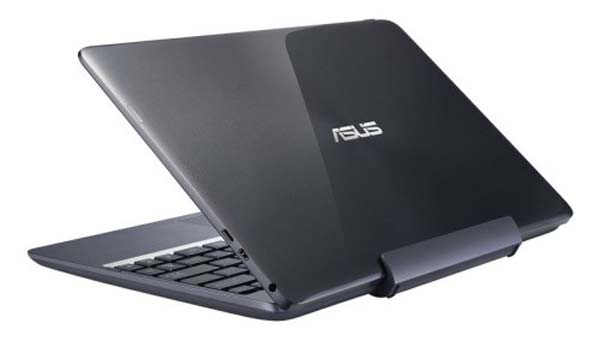 First impressions of the device after brief hands-on time have been offered up by both Engadget and CNet. While the device is a largely plastic constructed affair Engadget's quality assessment was much more favourable than CNet's, the latter found it to be of an overall unimpressive build quality. However this 2-in-1 is very light, weighing in at 540g for the tablet and 540g for the keyboard dock. Expect to see the T100 on sale by 18th October priced at $349 for one with 32GB of built-in storage, a 64GB version will be $399.
Transformer Book T300
As mentioned in the intro ASUS will also produce a big brother for the T100. The T300 has a larger screen at 13.3-inches and offers a Full HD resolution. This Transformer is powered by a 4th generation Intel Core processor and can provide users with 8 hours of battery life.
Transformer Book Trio
The Trio can run either Windows 8 or Android depending upon its configuration. When docked you get a Windows 8 laptop at your disposal powered by an Intel 4th generation Core processor. While docked you can also "switch instantly between Windows 8 and Android 4.2 by pressing the dedicated 'Trio' key on the keyboard" featuring a common shared storage area. If you detach the 11.6-inch Full HD IPS display you now have an Android tablet with its own Intel Atom dual-core processor.
Yet another mode is offered by the Trio with the screen detached; it becomes a 'PC Station' which can be hooked up to an external display via Mini DisplayPort or Micro-HDMI. Further specifications, price guides and launch dates are not revealed as yet for this Transformer Trio nor the Transformer T300 outlined above.