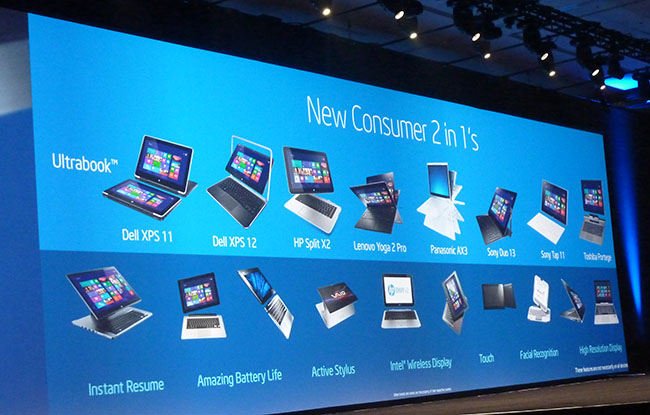 After failing to gain sufficient traction with premium Ultrabook laptops, Intel is refocussing mobile efforts on tablets and what the company is now calling 2-in-1s. Tablets are a known quantity, of course, and Intel has just unveiled the Bay Trail platform - based on a new Atom architecture, dubbed Silvermont - to power the next generation of feature-rich devices running either Windows or Android operating systems. The consensus is that Bay Trail will enable Intel to compete with the well-known mobile platforms available from ARM's cohort of partners.
2-in-1s - a new category?
2-in-1s, on the other hand, are existing hybrid laptops repositioned with another name. Ostensibly a tablet with a keyboard dock provided in the package, thus turning it into a laptop, Intel is using low-power mobile Haswell and high-end Bay Trail chips for this 'new' category.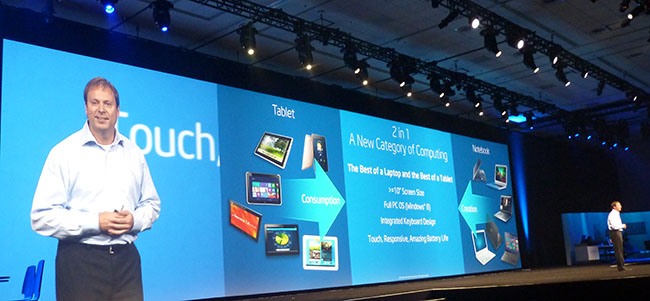 Just like Ultrabooks, Intel has a list of requirements for 2-in-1s, including a >10in screen, Windows 8 operating system, touchscreen, integrated keyboard and 'amazing' battery life, though no longevity figure was given.
Positioned as the best of a laptop and best of a tablet, Intel reckons that its partners will have 60 2-in-1s available by this holiday season, ranging from $349 (Bay Trail) to $999-plus for the best Haswell machines. Intel says it is teaming up with Microsoft to introduce 2-in-1-specific features, optimising for distinct laptop and tablet modes.
It seems to us that Intel is looking to invigorate an existing category by giving it a new name. We believe that the cheaper Bay Trail 2-in-1s hold the most promise, arriving as they do at prices not too far above those for larger tablets.
Bay Trail to enable cheaper laptops, desktops
The small, inexpensive Bay Trail SoCs also enable Intel and its roster of partners to launch cheaper notebooks and desktops. Kirk Skaugen, senior vice president, stated at IDF that Bay Trail-M and -D machines are likely to start from as low as $199, with touch-enabled/2-in-1s available from $299/$349. These are to be productised as Celeron and Pentium and it's sensible to assume that, given the underlying hardware, they will be thin and light. Intel already has 140 design wins in this space.