ASUS has published its first teaser in the run up to the Computex Taipei 2013 show. The low angle close-up of a brushed aluminium device sporting an ASUS logo is all we get for now. However there will be more teasers to come, hopefully more enlightening ones, before next week. The Computex 2013 trade show officially opens one week from now, on Tuesday 4th June, and runs until the 8th June.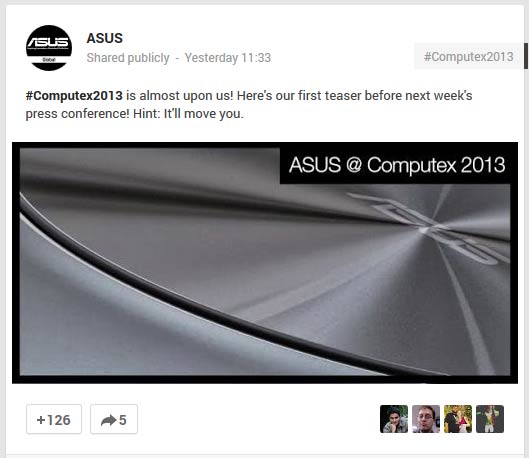 Unfortunately the ASUS teaser makes yesterday's Samsung Galaxy and Ativ teaser images look positively enlightening and detailed. All we get, in imagery, is a brushed aluminium finish and an ASUS logo. The picture also seems to show a curved and rounded chamfered edge. I hope it's not just another ASUS DVD writer which was similarly teased a couple of months ago.
The unenlightening picture came with a written hint which suggested "It'll move you". Most people read into that hint that it will be a portable product rather than something to that will actually move the user.
Is it the ASUS Zenbook Infinity?
In other ASUS Computex news, last week ASUS informed us that a new laptop would debut at the show, called the ASUS Zenbook Infinity. The headlining feature of this sleek Ultrabook is its incorporation of Corning Gorilla Glass 3 with Native Damage Resistance (NDR) on the outer lid and keyboard surround. We are told that Gorilla Glass 3 has "three times the scratch resistance of Gorilla Glass 2, and gives a 40% reduction in the number of highly visible scratches with a 40% improvement in retained strength if a deep scratch does occur".
ASUS says the new Zenbook will offer "outstanding resilience" matched by a beautiful design and slim profile. In practical terms it will have a maximum thickness of just 15.5mm. That's 14 per cent thinner than the previous generation of Zenbooks.
Could the new teaser image be a detail from the Zenbook Infinity? Last week's press release said "Zenbook Infinity features the pattern of fine concentric circles that's an ASUS Zenbook hallmark". That detail does correspond to the image.