Currently if you want an Intel powered touchscreen tablet packing Windows 8 you are looking at prices approaching £400 (the ASUS VivoTab ME400 for example). That's a significant chunk of cash more than a similar 10-inch Android/ARM powered tablet by a big name such as Samsung. It's also quite a lot more than a good selection of Google Chromebooks.
A major part of the pricing differences may well be accounted for by Microsoft's charging for the Windows 8 OS. However Intel's pricing strategy probably also has something to do with the higher prices, as CEO Paul Otellini is in the news today teasing that the price of Windows 8 touch enabled devices, including laptops, are set to tumble with the release of the next generation of Atom processors.
"If you look at touch-enabled Intel-based notebooks that are ultrathin... Those prices are going to be down to as low as $200" said Intel CEO Paul Otellini in the investors conference call we reported on this morning. The new designs, including tablets, will based upon Intel's next Atom range; the quad-core Bay Trail processors.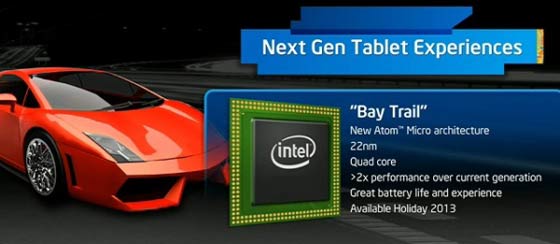 As well as the lower price points that have been predicted, a quad-core Bay Trail is said to offer quite a lot more poke in the performance department, potentially "doubling the computing performance of Intel's current-generation tablet offering" according to Cnet sources at Intel China. Further benefits offered by Bay Trail include the facilitation of designs "as thin as 8mm (0.3 inches) that have all-day battery life and weeks of standby".
Also participating in the conference call, Intel's CFO Stacy Smith, boasted "Bay Trail is going to be a great product in that segment of the market and enable stunning performance relative to what the competition can bring".
Neither the CEO or CFO mentioned screen size in the cut-price equation but it is expected some of the savings made, to reach down to the $200 price point, would be achieved by targeting the popular 7-inch screen size. Such attractively priced Windows 8 devices aren't expected to be in retail until "the holiday season".