Apple has announced a number of price cuts and spec bumps in a mid-cycle update today. The Retina-display equipped 13-inch and 15-inch MacBook Pro notebooks got price cuts and upgraded processor choices and the 13-inch MacBook Air with 256GB SSD (non-Retina) got a simple price cut.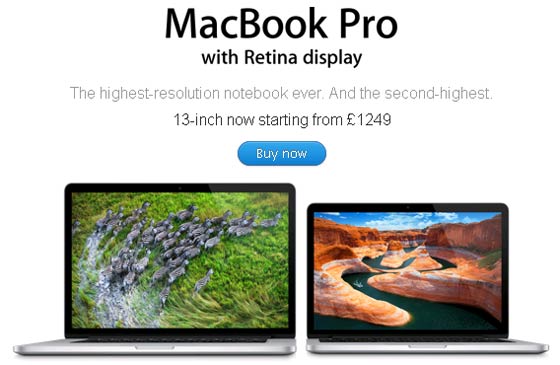 MacBook Pro
It is now possible to get your mitts on a Retina display equipped MacBook Pro for just £1,249. The 2.5GHz Intel Core i5 powered MacBook Pro with 13-inch Retina display is £200 less than it was yesterday. If you decide to splash the same amount of cash as you would have had to yesterday (£1,449) you can get a 0.1GHz faster version with double the fixed storage; a 256GB SSD.
The 15-inch MacBook Pro is also benefitting from mid-cycle tweaks. The base model at £1,799 now features a 2.4GHz quad-core Intel Core i7 chip (up from 2.3GHz) while the top end machine at £2,299 comes with a 2.7GHz i7 (up from 2.6GHz) and 16GB of RAM as standard. It seems that, rather than cut the prices of the 15-inch Retina MacBooks, Apple has been happy to provide these incremental speed boosts.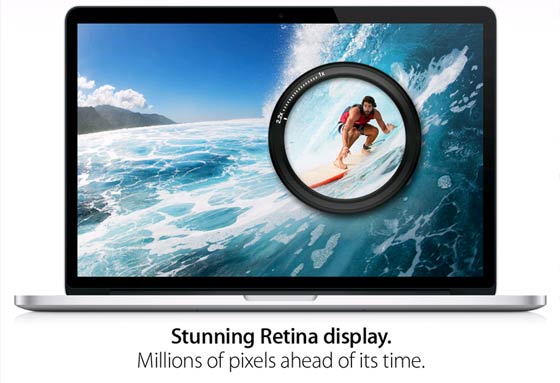 MacBook Air
The sleek and slim MacBook Air, the most expensive version equipped with a 13-inch screen and a 256GB SSD, has been reduced in price to £1,199. That's £50 off, making it exactly £200 more than the otherwise identical 13-inch MacBook Air model with a 128GB SSD installed.
A week earlier Apple reported Mac sales over the holiday quarter were down 21 per cent year on year. Are these latest price and specification tweaks enough to make any readers wish to snap up a Retina MacBook Pro or MacBook Air?