Small, tough and light.
This notebook tough enough for you?

There's some things shown at CeBIT that you just have got to have.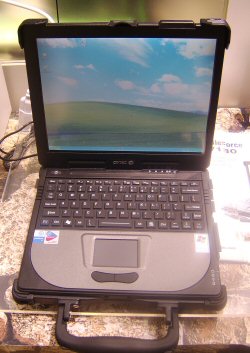 If you find yourself constantly on the move and laptop in tow, you'll appreciate that they can take a knock now and then. Inebriated students may also find themselves dropping kit during alcohol-fuelled computing sessions.

Fear not. Help is at hand. You could consider the Getac MobileForce W130. It's housed in a die-cast magnesium alloy coating, employs a fan-less design, and has each port individually sealed. So what do you do, huh?

You can specify a 120GB shock-mounted hard-drive, along with, say, an Intel Pentium M low-voltage 738 CPU. The waterproof keyboard will take care of any errant beer spills, and the 12.1-inch XGA screen can be upgraded to a touchscreen.

Getac's so confident of the W130's rugged credentials that it had one imprisoned inside a torture display.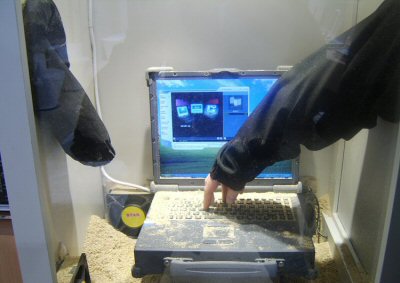 All kidding aside, the Getac MobileForce W130 is a powerful, quiet laptop that's almost bombproof. Useful to any organisation that needs a mobile solution in almost any environment, it's pretty much ideal. It only weighs 2.5kg in full protective mode, too. Click here for more information.