Less than a month ago Google and Samsung let loose a new "Chromebook, for everyone" priced at $249 (£229 in the UK). Now there's a new cheaper Chromebook available from Acer, it's called the Acer C7 Chromebook and is available today. The new Acer C7 has rather different internals to the Samsung effort as it is based around an Intel Celeron processor rather than a Samsung Exynos 5 Dual Processor. Also the price is keener at $199 in the US, unfortunately this is translated to £199 in the UK's Google Play store.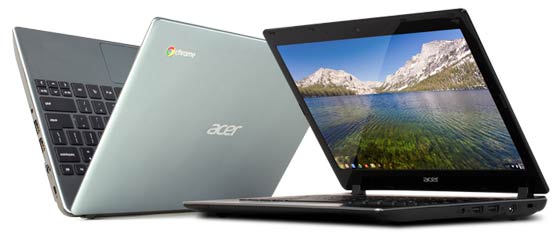 Google boasts that "powered by an Intel Celeron processor, the Acer Chromebook is fast-boots up in 18 seconds, resumes instantly and high-definition videos play smoothly". Also the Official Blog highlights that this Chromebook comes with a 320GB HDD, "you can easily store your stuff on the Chromebook or in the cloud, with a 320GB hard drive and 100GB of free storage on Google Drive".

The Samsung Chromebook released last month takes a different approach by coming equipped with just a 16GB SSD to accompany your 100GB online storage. Another big difference between the two new Chromebooks is in battery life. The Acer has about half the stamina of the Samsung Chromebook, something which may well be important to you if you want one of these notebooks. The Samsung has no CPU fan or spinning disks so also should be pretty silent in operation.
As the Acer and Samsung share a lot of qualities but are very different in other aspects I've compiled a side spec comparison below so you can quickly check the differences that are important to you.
Samsung Chromebook $249 (£229)


Acer C7 Chromebook $199 (£199)


11.6'' (1366x768) display
0.7 inches thin – 2.42 lbs / 1.1 kg
Over 6.5 hours of battery
Samsung Exynos 5 Dual Processor
100 GB Google Drive Cloud Storage with 16GB Solid State Drive
Built-in dual band Wi-Fi 802.11 a/b/g/n
VGA Camera
1x USB 3.0, 1x USB 2.0
HDMI Port
Bluetooth 3.0™ Compatible

11.6'' (1366x768) display
1 inch thin – 3 lbs / 1.4 kg
3.5 hours of battery
Intel® Celeron™ 847 processor
100 GB Google Drive Cloud Storage2 with 320GB Hard Disk Drive
Dual band Wi-Fi 802.11 a/b/g/n and Ethernet
HD Camera
3x USB 2.0
1x HDMI Port, 1x VGA port
As well as buying the new Acer C7 Chromebook online, direct from Google, you can also buy it from Amazon.co.uk and from PC World.
Acer is well known for pouring cold water on the Windows RT platform but seems to think the Chrome OS is a better bet. Is the Acer C7's slightly cheaper price enough to sway those interested in a Chromebook away from choosing the Samsung?