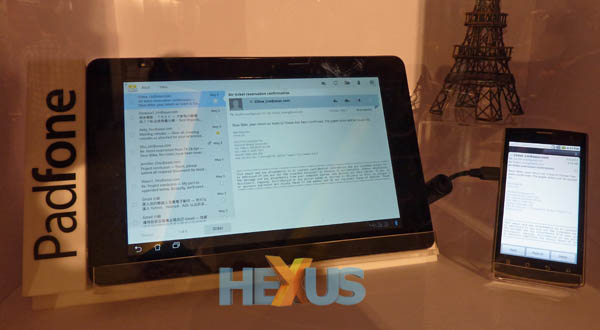 Holy smokes, Batman, what's this? ASUS showed off its much-rumoured Padfone at a press conference in Taipei, Taiwan, today.
Padfone converges two technologies in a fairly novel way. On the right is a fully-functioning Android-based smartphone. The run-of-the-mill, 4.3in device uses a Tegra 2 processor and has all the bells and whistles one would expect from a mid-2011 handset. On the left is a Tegra 2- and Android-powered tablet.
But they come together by slotting the smartphone into a dedicated section on the back of the tablet, hence the Padfone name. The benefit, ASUS says, is that one really does get the best of both worlds, somewhat akin to the Motorola Atrix and its LapDock.
The tablet can grab use of the phone's SIM card such that it turns into a large phone, while, when docked, the phone can pull juice from the tablet's battery and use its greater IO capabilities, though it seems as if the tablet component merely serves as a glorified dock rather than a standalone device.
From the video we saw, the syncing is pretty seamless from one device into another. ASUS would only go so far as to claim that it's looking at a Christmas 2011 launch.
We'll be grabbing a hands-on later in the week and giving you a full run-down on this decidedly interesting hybrid technology.