iPad + MacBook = ?
The first of Apple's major new innovations in the design is found in the hard-drive - or should we say, lack thereof. To cut down on space - and taking a page out of the iPad's playbook - flash memory will be built directly onto the logic boards, which Steve Jobs claimed makes the SSD 90 per cent smaller than a normal drive.
This obviously left more space for the battery, which takes up the majority of the room under the keyboard. This allows for seven hours of normal usage on the 13in model and five hours for the 11in model. Both can also enter a new 'standby' mode which will allow them to sleep for up to a month without giving out. Thanks to the speedy SSDs, Jobs promised an almost instant recovery from this mode - again, taking cues from the iPad - and initial hands-on experiences suggest that it's a pretty accurate description.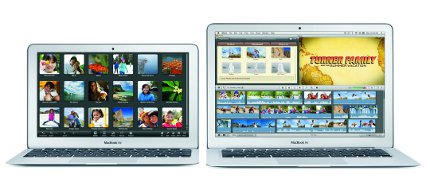 Of course, it's the stunning looks that will catch most customers - and gadget fans - eyes. Using the same unibody aluminium construction and glass multitouch-trackpad as the full-fat Macbooks, the new Airs manage to shave both inches and weight off of the previous design. Both models measure only 1.7cm at the back and 0.3cm at the front and while the 13in laptop weighs in at 1.32kg, its smaller brother tips the scales at a mere 1.06kg.
The redesigned Airs are utterly lust-worthy and once again show Apple's ability to innovate in hardware design. While we would have loved to see a slightly newer CPU, the latest members of the Macbook family are still absolutely stunning laptops.
Both notebooks are available now from Apple, with an 11in 64GB model shipping for £849 and a 128GB model costing £999. The 13in Air will come in 128GB and 256GB variants which will cost £1,099 and £1,349, respectively.