Living up to the hype surrounding the fabled tablet was always going to be a gargantuan task for Apple, but even CEO Steve Jobs couldn't have foreseen the iPad ridicule provided by web users in the 48 hours following its unveiling.
Apple, soaking up as much hype as possible, unveiled the product in San Francisco earlier this week, preceding festivities with a a message that read "last time there was this much excitement about a tablet it had some commandments written on it".
Jobs, describing the iPad as both "magical and revolutionary", was quick to rubbish rival netbooks as "cheap laptops", adding that the iPad will provide "the best web experience you've ever had".
Yet, unlike previously-successful product unveilings, Apple's high-profile event has been met with a underwhelming response from consumers and journalists alike. Such is the disappointment in Apple's "latest creation" that bloggers have already opted to sink their teeth into Apple's yet-to-be-released device, with many calling it just an oversized iPod touch.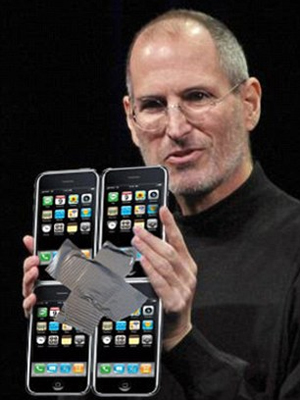 Although web-based ridicule of new products is nothing new - the speed at which Apple's iPad has promptly fallen from grace is nothing short of remarkable.
In addition to being described as a larger iPod touch, Internet users have also been quick to point out the similarity between the iPad name and certain female hygiene products.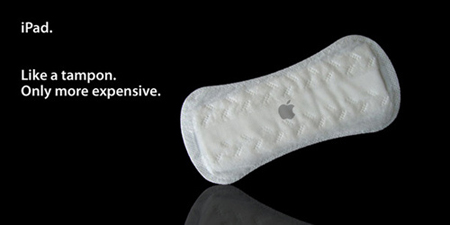 Highlighting the extent of iPad jokes is the new-found term iTampon, which in recent days has become one of Twitter's biggest trending topics.
There has also been a backlash from some of the world's most popular technology blogs - sites that have traditionally praised recent Apple products. Gadget blog Gizmodo has listed 8 Things That Suck About the iPad, and asks "Why stop at 8?" before listing "more things we are discovering that suck about the iPad".
Some of the iPad criticism has centred on the lack of certain features - including no built-in camera, no support for Adobe Flash content, and the inability to run multiple applications at any one time.
Yet, despite the widespread iPad bashing, many analysts are still predicting market success. If Apple's recent product announcements are anything to go by, the initial doubt should come as little surprise, considering that both the iPod and iPhone were initially met with scepticism. When the iPad hits stores in April, history suggests it will be followed by queues of Apple fanatics eager to get their hands on the device, and perhaps a rush of positive media reviews.
But let's not look too far ahead, Apple naysayers will be keen to enjoy the iPad bashing whilst it lasts, so we've embedded two of the most popular iPad video parodies for your viewing pleasure below.
iPad Maxipad
Hitler responds to the Apple iPad