We managed a first look at Intel's Atom successor - codenamed Pineview - back at COMPUTEX earlier this year, but details on retail availability have been sketchy at best.
Fortunately, Chinese newspaper Digitimes is now claiming that MSI will launch Pineview-based netbooks in December 2009. Citing industry sources, the paper claims that MSI will introduce Intel's next-gen platform ahead of schedule in order to stave off competition from the likes of ASUS and Acer - both of which are reported to be deploying Pineview netbooks early in 2010.
According to the report, MSI's Pineview-based netbooks will feature touchscreen displays suited to Microsoft's Windows 7 operating system.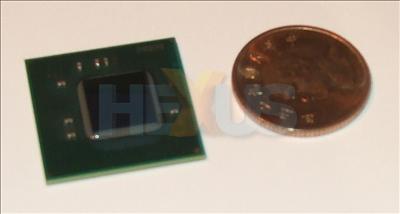 The Pineview processor, pictured above, features a CPU, a GPU and a memory controller on a single die. Combined with Intel's Tiger Point I/O, it creates what's known as the Pine Trail platform. Sounds like a decent step forward, but despite the aforementioned rumours, we're still uncertain as to when exactly we'll see Pineview-based systems in stores.
Earlier this year, the same Chinese newspaper suggested that the first 45nm Pineview part would be productised as the Intel Atom 450, adding that it would become available as soon as October. Unfortunately, that was shortly followed by news suggesting that Intel had delayed the introduction of the new processor and platform until early 2010.
Next-gen Atom processors are certainly coming, but when exactly remains a mystery. Might be worth holding off on a purchase, mind you, as we expect a barrage of new systems to coincide with the launch of Microsoft's Windows 7 on October 22nd.