Tony Smith of The Register reports:
Apple's MacBook Air - still the world's slimmest laptop; VoodooPC's Envy isn't shipping yet - just got cheaper. Well, sort of. Apple's knocked £300/$500 off the price of the solid-state drive model.
Launched at £2028/$3098, the Air with the 64GB SSD now costs £1719/$2598, undoubtedly thanks to tumbling Flash memory prices. The sub-notebook's other specs remain the same.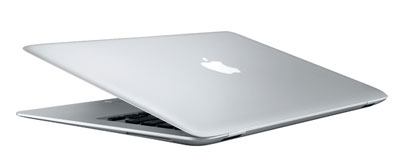 Essentially, the drive's end-user price has fallen by around 37 per cent in six months. At that rate, by Christmas the SSD Air will be £194 cheaper still. Or offer more storage capacity. We'll surely know early in January 2009 when Apple will almost certainly unveil the second-gen Air at Macworld Expo.
But Britons continue to get a bad deal. In the US, the cost of having a 1.6GHz Air upgraded to a 1.8MHz CPU using Apple's build-to-order option costs $200. Here in the UK, Apple is still charging £130 ($260) for the CPU switch. Even allowing for local sales taxes, that's still a big mark up.
Related reading
OCZ Core Series SSDs to be available in the UK within two weeks
OCZ announces (more) affordable Core Series SSDs: 128GiB for £250!
Super Talent's 120GiB SSD priced ridiculously low