Intel has announced a new computer design initiative. The chipmaker is opening three facilities worldwide to support the creation of Intel Project Athena laptops by various hardware partners. Labs will be opening up in key locations including Taipei, Shanghai and Folsom, California. The goal is that in 2020 Intel will have a bevy of partners ready to supply Project Athena laptops which offer qualities such as; 5G connectivity, AI smarts, 20hr battery life, instant resume from sleep, and more.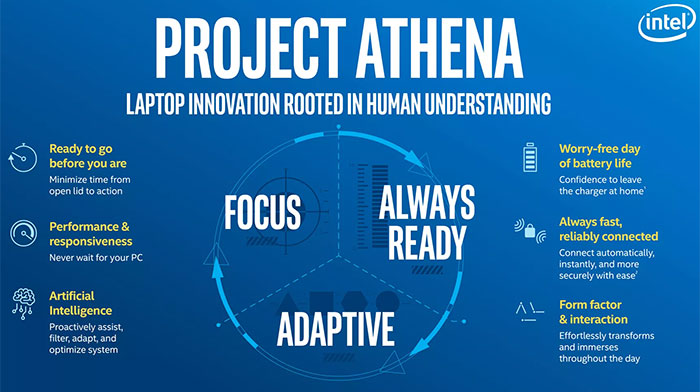 Project Atherna was originally announced back at CES 2019 and it is, as evidenced by its main thrusts, an Intel attempt to fend off Qualcomm powered PC design growth. Thus is it focussed upon performance and low-power optimization of vendor components for laptops. The new Project Athena labs will open from June. It appears that Intel has readied a design flow chart for OEMs, which of course will recommend the use of a wide range of its own components.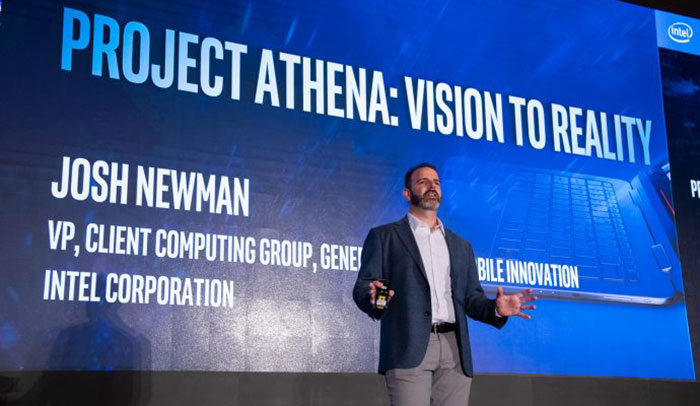 "Across the industry, we each play an important role in delivering the advanced laptops of today and the future. Project Athena Open Labs are a critical step in enabling more extensive, day-to-day collaboration with the components ecosystem to continuously raise the bar for innovation across the platform." – Josh Newman, Intel vice president and general manager of PC Innovation Segments, Client Computing Group.

Middle, you can see a picture of Josh Newman speaking to more than 500 members of the PC manufacturing ecosystem, gathered in Taiwan for the Project Athena Ecosystem Symposium. The Intel blog says that the first wave of Project Athena designs will be on shelves as soon as H2 this year but the main push will be from 2020 when Intel works more closely with independent hardware vendors (IHVs) to integrate their parts into Project Athena laptops. Thus it sounds like the first machines will be based off Intel reference designs, followed up next year with more tailored solutions - assembled from a wider range of approved and optimised components.