Atom-powered devices on the way
Remember this mobile internet device from BenQ? Well, you should. Ever since Intel started harping on about its low-power Atom processor, it has been parading this MID everywhere it goes.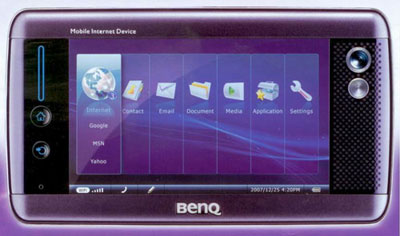 Now, at long last, we finally know what it has inside. The Intel Atom processor powering the MID will be the obvious Z500. The slowest clocked Atom, providing a speed of 800MHz, is a clear choice due to its 0.65W TDP.
Accompanying the 800MHz Atom chip will be 512MiB of RAM, a 4GiB SSD and connectivity in the form of HSDPA, WiFi 802.11b/g, and Bluetooth 2.0+ EDR.
The device will be running an operating system based on Linux-powered Moblin and will feature voice activation and BenQ's G-Sensor control interface as standard. GPS, however, is optional.
Intel states that MIDs are designed "for highly mobile people who want the best internet experience in their pockets". BenQ's version could well fit the bill, but we'd have loved some form of QWERTY keyboard.
We've got the internal spec, but two key piece of information remain unknown; the price, and the release date.