CloudBook available from Walmart this month

Watch out ASUS, Everex is on your tail! At CES today, Everex announced the CloudBook, a new entrant to the market for ultra-small portable computers in which the ASUS Eee PC family currently runs rampant.
It'll be available in Walmart stores across the US on January 25 for $399. No news yet on availability elsewhere.
Everex reckons that the CloudBook gives a pretty decent battery life - up to five hours - measures just 9in wide and weighs only 2lbs. Using the pre-loaded gOS Rocket operating system, the CloudBook will let you surf, email, blog and more, using pre-installed apps including Mozilla Firefox, Skype and OpenOffice.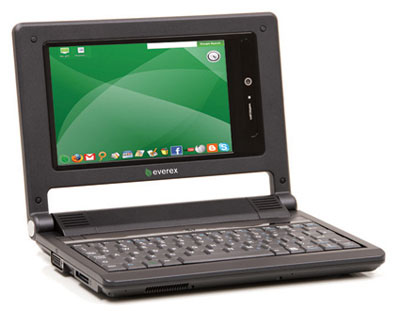 What does the $399 get you in terms of hardware? Here's the spec according to Everex:
1.2GHz, VIA C7 M Processor ULV
512MB DDR2 533MHz, SDRAM
30GB Hard Disk Drive
7" WVGA TFT Display (800 x 480)
VIA UniChrome Pro IGP Graphics
VIA High-Definition Audio, 802.11b/g
(1) 10/100 Ethernet Port
(1) DVI-I Port
(2) USB 2.0 Ports
(1) 4-in-1 Media Card Reader
(1) 1.3MP Webcam
(1) Headphone/Line-Out Port
(1) Microphone/Line-In Port
(1) Set of Stereo Speaker
(1) Touchpad
(1) 4-Cell Lithium-Ion Battery
Though with similar hardware to the ASUS Eee PC, there is one big difference - disk drive capacity. Instead of using an expensive solid state drive (SSD) like ASUS, Everex has squeezed in a conventional 30GB hard drive. That's 22GB bigger than the current highest-capacity SSD found on an Eee PC.
Official website: Everex.com