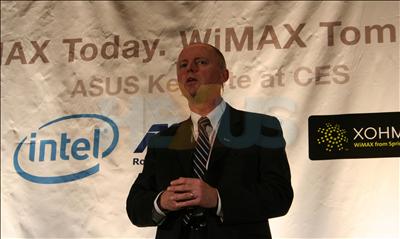 ASUS held a press conference detailing its plans to amalgamate WiMAX technology into a slew of notebooks this year.

The event, held in conjunction with Intel and Sprint, detailed plans for a top-to-bottom WiMAX enablement through, in the main, the use of Intel's upcoming Montevina Centrino platform, which will bring with it the new Cantiga chipset and upgraded mini-PCIe communcations card - Dana Point/Echo Peak - that supports 802.16e (WiMAX).

ASUS commented that around 15 per cent of its notebooks will be WiMAX-enabled by the end of 2008, but the most interesting announcement centred on the second-generation Eee PC with WiMAX connectivity as standard.

According to slides we saw, ASUS will be releasing three models in Q2 2008, including 7-, 8-, and 8.9in-equipped SKUs. The latter will sport a 1024x600 resolution, up from the 800x480 in first-generation models. We very much doubt that ASUS will adopt the entire Montevina platform for its low-cost wonder, though.

We further learned that Windows XP will be the OS of choice for the high-end Eee PC. What wasn't divulged by tight-lipped representatives was the estimated price. We were told it would be very attractive, but that's akin to stating how long is a piece of string, right?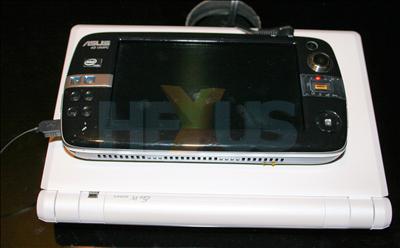 If you just can't wait and want a UMPC with WiMAX integrated into it right now, look no further than the R50a (R3?), sitting atop of the 350,000-selling Eee PC.

This 500g box 'o tricks is the world's first UMPC with built-in GPS, apparently. It does have a gorgeous 5.6in screen that's capable of a lush 1024x600 resolution. Adding to the features list, it ships with dual webcams and digital TV tuner, too. Trouble is, it'll cost around £1,000.

All HEXUS CES 2008 content