An executive from IM Flash, the Intel and Micron joint venture focussing on the task of developing 3D XPoint memory chips, has provided expanded details about the roadmap for this new memory technology. Guy Blalock, co-CEO of IM Flash, told the EETimes yesterday that sample 3D XPoint chip availability is "just around the corner", however he added that it could take 12 to 18 months to get Xpoint into mass production.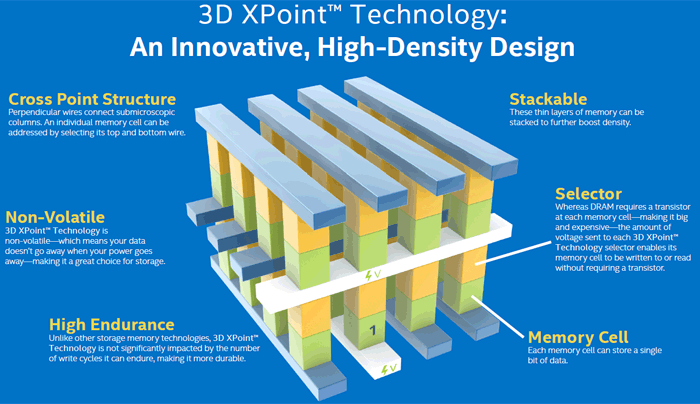 We first heard about 3D XPoint memory back in July last year. Intel and Micron announced it out of the blue as a revolutionary new class of non-volatile memory. It is said to be "built from the ground up to address the need for non-volatile, high-performance, high-endurance and high-capacity storage and memory at an affordable cost". In August we heard that Intel planned to use this 3D memory in a range of "game-changing performance to memory and storage solutions," under the Intel Optane brand name.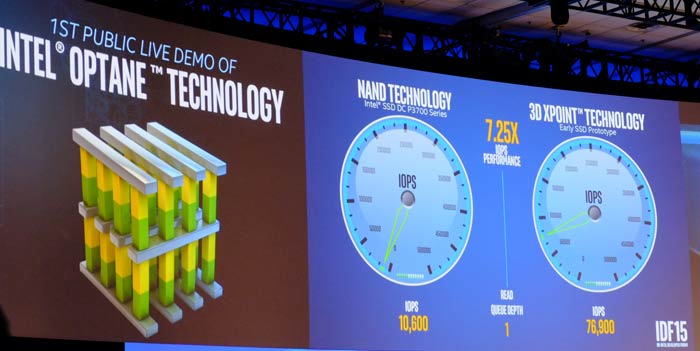 In his discussion with the EETimes Blalock touched upon both timescales and details of the manufacturing challenges faced by his team to get 3D XPoint memory rolling off the production line.
On timescales, the IM Flash co-CEO said that engineering samples of 3D XPoint chips are "right around the corner… give the R&D guys a little more time to work out the kinks". If the report last week, carried by Legit Reviews, showing Beth Crair, Intel Vice President and General Manager, Storage Group, holding aloft an early mechanical sample 512GB NVDIMM built with the tech is anything to go by, it indeed will be very soon.
However this revolutionary technology is presenting large hurdles for its first stint of mass production. Readying the production lines is like swimming through deep water, said Blalock. He noted that Xpoint uses as many as 100 new materials, raising supply chain issues. With the extra dimension in play XPoint and 3D NAND require more machines running process steps, cutting fab throughput by an estimated 15 per cent. Overall the difficulties in getting up to speed, production wise, could "drive 3-5x increases in capital expenses and space needed, compared to prior new generations of flash," noted the EETimes.
With NVMe-interfaced 3D XPoint memory chips capable of delivering more than 95,000 IOPs at a 9ms latency, compared to 13,400 IOPs and 73ms latency for flash, its tantalising to wait for the first shipping Optane products from Intel.