ARM continues to apply its technological resources to advance IoT platforms for businesses. ARM TechCon 2015 takes place in Santa Clara, CA, from 10-12 November and ahead of the event ARM has unveiled enhanced technologies which it expects to accelerate the mass deployment of IoT devices. The key new technologies include; the mbed Device Connector, the enhanced mbed OS (Technical Preview) and a pair of new IoT hardware reference designs for wearables and industry. These new technologies will help businesses manage complexity as the amount of connected devices rises and facilitate fast deployment of IoT systems that meet requirements and solve business problems.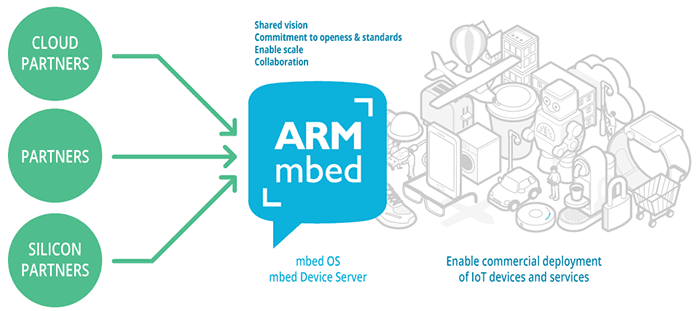 If you are interested in the IoT and cutting edge devices you have probably heard of ARM's mbed. It is an IoT device platform providing a secure OS, cloud services, tools and developer ecosystem making it possible to deploy standards-based IoT solutions at almost any scale. The announcement by ARM of enhanced technologies, in the run up to Arm TechCon 2015, covers all those facets of the platform.

mbed Device Connector
This is a free tool for developers to use to connect up to 100 devices and is capable of handling up to 10,000 events per hour. Developers use the mbed Device Connector to connect devices in prototype deployments, building secure web apps and then quickly and easily integrating them with cloud solutions. Being free for IoT networks of up to 100 devices allows developers to make good use of the platform and thoroughly test it before committing to larger projects.
mbed OS
A new Technology Preview version of mbed OS has been released. This efficient, modular OS for Cortex-M based processors enables your IoT plans to scale and take advantage of innovations like Thread, a new wireless standard that solves reliability, security, power and compatibility issues for connecting products around the home.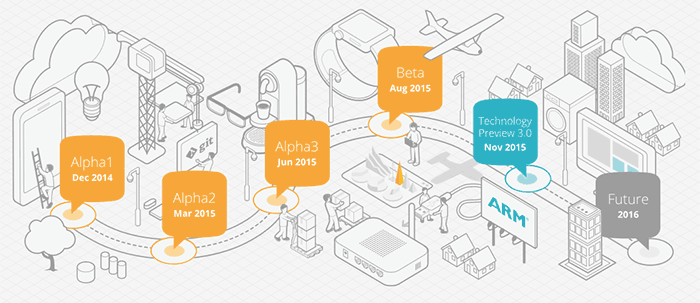 mbed Wearable Reference Design
This is the first of two new open source reference designs ARM has constructed to help developers cut the time from prototype to final device design. The mbed Wearable Reference Design is a wrist-worn device which delivers a "fully interactive user-experience," yet promises a battery life of approximately two months.
mbed Smart City Reference Design
This design is aimed at infrastructure monitoring and smart industrial applications using Sub-GHz 6LoWPAN & CoAP mesh network protocols for large numbers of devices.
So far several leading cloud players have centred their associated developments around the mbed IoT Device Platform - IBM Bluemix, Microsoft Azure, and Salesforce are among that group - plus 150,000 developers are active in the mbed community. Furthermore ARM has welcomed 24 new mbed partners since May this year, including Alcatel-Lucent, Delta, ON Semiconductor, PixArt, Renesas, SK Telecom and Western Digital.