The Heterogeneous System Architecture (HSA) Foundation has announced that the HSA Specification v1.0 has been released. The publishing of the 1.0 spec will mean that component and device makers can push ahead to deliver true heterogeneous computing. This will bring better performance and power efficiency to computing devices which harness a combination of graphics and compute cores.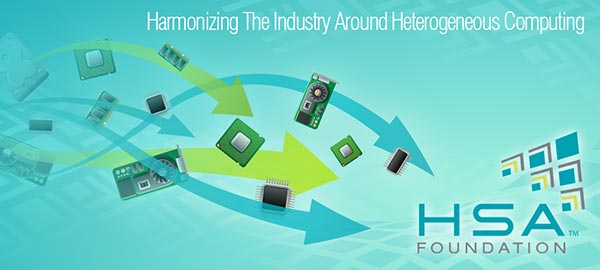 Major companies supporting the HSA spec include; AMD, ARM, Imagination Technologies, LG Electronics, MediaTek, Qualcomm and Samsung. Regular HEXUS readers will know all these companies as players in the mobile processing and graphics SoC market. The exception is of course AMD, which currently focuses upon SoCs – or APUs – for desktop and laptop computers.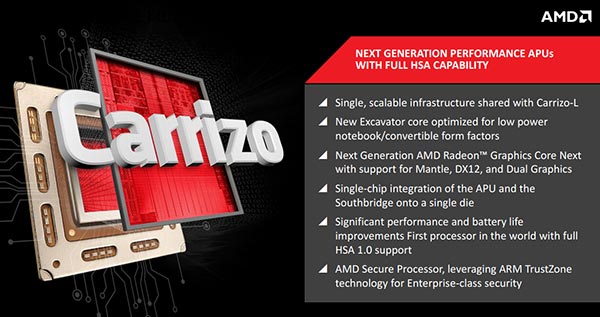 Notably the AMD Carizzo is expected to become the first HSA-compliant chip when certification is up and running from autumn. An EE Times report says that the HSA Foundation contacts Intel and Nvidia roughly once a year to check if they are interested but have always, thus far received an answer of "no thank you".
Phil Rogers, president of the HSA Foundation, said that the newly published spec will facilitate "a world of new, incredible applications that run fast at low power," on end-user devices. SOCs based on x86, ARM and MIPs technologies will all benefit from HSA 1.0, as will programmers using high-level languages, such as C++, Java and Python to create HSA applications. It is estimated that applications using parallel operations on graphics cores could provide two to six-fold performance benefits thanks to HSA.
The newly-approved spec provides three key elements to partners:
The HSA System Architecture Specification, which defines how the hardware operates;
The HSA Programmers Reference Manual (PRM), which targets the software ecosystem, tool and compiler developers;
The HSA Runtime Specification, which defines how applications interact with HSA platforms.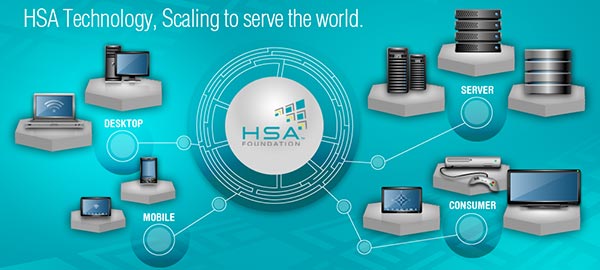 The head of market research firm Moor Insights & Strategy, Patrick Moorhead, foresees an improvement in power efficient computing coming to a wide array of computing devices thanks to the HSA 1.0 spec. Moorhead added that "I anticipate a lot of interesting use cases, from video chat apps and search to TV shows and movies. App developers should also find it easier to harness all of the processors together."