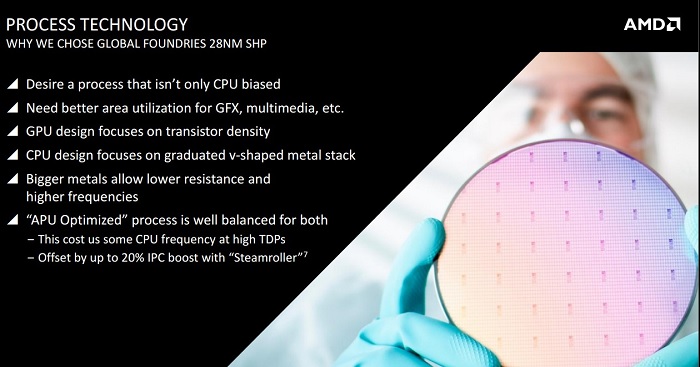 AMD's close ties with semiconductor manufacturing company GlobalFoundries are hardly an industry secret, as just recently a former AMD executive departed to join the GlobalFoundries management team. In a further strengthening of relations AMD is expected to move more production towards GlobalFoundries during 2015.
A new report suggests that AMD will transition additional 28nm production away from Taiwan Semiconductor Manufacturing Company (TSMC) to GlobalFoundries this year. GlobalFoundries' 28nm SHP (super-high performance) process, something AMD has already made use of on its Kaveri APUs, allows higher operating frequencies with the same voltages as TSMC's equivalent. That should enable AMD to release faster GPUs in 2015 without transitioning to a smaller process node, such as 20nm, or adversely affecting power consumption.
AMD's 2015 graphics products will implement GCN 1.2 revisions, featuring similar design tweaks to the recently launched 'Tonga' R9 285 that sports improved colour compression, geometry and tessellation performance. The main process node for these products will now be Global Foundries' 28nm SHP, rather than TSMC 28nm, but the potential for products based on smaller process nodes, such as 20nm, is yet to be ruled out.
AMD and TSMC aren't ready to part ways just yet with speculation hinting that TSMC will be responsible for the manufacture of AMD's next-generation 'Zen' CPUs. Zen is rumoured to overhaul the fundamental 'Bulldozer' architecture that has underpinned successive AMD CPUs; Bulldozer, Piledriver and Steamroller.