AMD has just announced the new AMD Embedded G-Series System-on-Chip (SOC) platform. These new SoCs combine AMD's next generation Jaguar CPU architecture with AMD Radeon 8000 series graphics. The announcement was made at the DESIGN West expo in San Jose, California. AMD says these developments are evidence of its "strategic push to focus on high-growth markets outside the PC industry". However the naming scheme of the new G-Series seems to have revealed a bit more information than is directly mentioned in AMD's press release.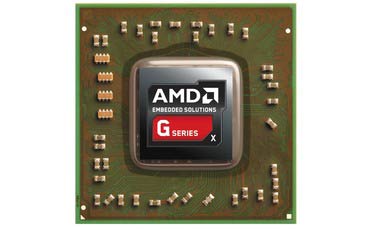 The G-Series X is an x86 design, as would be normal for an AMD processor. Engadget is one of several sites to question why do we need the X denomination unless there will be another variety of G-Series coming shortly. The tech news site suggests that the G-Series X will be joined by a G-Series A which will incorporate ARM-designed CPU cores. Furthermore AMD's Arun Iyengar confirmed this in a statement saying "Ultimately, we're going to have x86 and ARM in our product portfolio". With the x86 chips covering power envelopes between 9W and 25W Engadget speculates that some A-denomination G-Series SoCs could take power consumption to 3W and below.
Let's get back to the solid, from the horses' mouth news of today's announcement. Five new SKUs have been announced by AMD as follows:
GX-420CA SOC with AMD Radeon™ HD 8400E Graphics
= Quad-core, 25W TDP, CPU freq. 2.0GHz, GPU freq. 600MHz
GX-415GA SOC with AMD Radeon™ HD 8330E Graphics
= Quad-core, 15W TDP, CPU freq. 1.50GHz, GPU freq. 500MHz
GX-217GA SOC with AMD Radeon™ HD 8280E Graphics
= Dual-core, 15W TDP, CPU freq. 1.65GHz, GPU freq. 450MHz
GX-210HA SOC with AMD Radeon™ HD 8210E Graphics
= Dual-core, 9W TDP, CPU freq. 1.0GHz, GPU freq. 300MHz
= Quad-Core, 15W, CPU Freq. 1.6GHz, No GPU
AMD sees these SoCs employed in such devices as kiosks, set top boxes and digital signage. The new G-Series offers the following advantages over previous designs; 113 percent improved CPU performance, support for DirectX® 11.1, OpenGL 4.2x and OpenCL™ 1.22 that enables parallel processing and high-performance graphics processing, a 33 percent smaller footprint. Also compared to its direct competition of the Intel Atom the G-Series X offers "a 125 percent advantage" in CPU performance and "greater than 5x advantage over Intel Atom when running multiple industry-standard graphics-intensive benchmarks" thanks to the "discrete-class AMD Radeon GPU".
Colin Barnden, principal analyst at Semicast Research said "With this new AMD SOC design, the AMD Embedded G-Series platform offers the perfect mix of high performance, a small footprint, low energy use and full I/O integration to enable smaller form-factor embedded designs, cool and efficient operation, and simplified build requirements." He added, in his statement contained within AMD's press release, that "AMD has leapfrogged the competition by combining the power of an x86 CPU and the performance of AMD Radeon graphics with the I/O interconnect all on a single die."
The Inquirer had a bit of background information from AMD's Kamal Khouri, director of Embedded Products, concerning this latest range of SoCs. Khouri said that the chips announced today would be joined by another with a TDP of less than 9W. Also the company are "pushing the bounds on how low we can get in terms of power that our customers have truly fanless and cheap cooling and thermal solutions". Another titbit from Khouri was that device makers have so far been most interested in the GX-210HA SOC 9W dual-core SoC in the list above.