It's what we've all been waiting for and now here we have it, folks, AMD's 2012-2013 roadmap. It's looking very much like an exciting time for the mobile segment with serious focus on APU designs, which will also scale all the way up to the mainstream desktop market, with AMD looking to push more and more towards all-in-one SoCs. The firm is looking to take risky but bold moves in pushing for superior integration and programmability of GPGPU cores with its new HSA architecture, as opposed to remaining purely performance focused.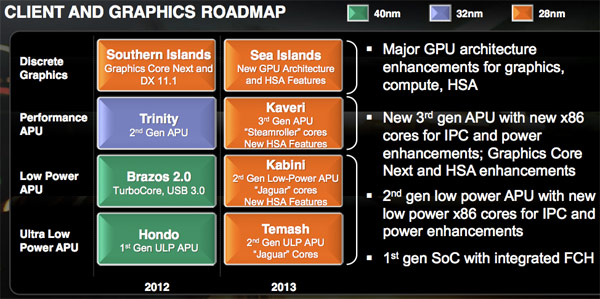 As you can see, the vast majority of AMD's graphical technology over the next two years will be paired up with CPU cores in an APU configuration, though the firm is promising not only further advancements in HSA technology on its discrete GPUs in 2013, but also yet another evolution of its GPU architecture, which makes a lot of sense, Graphics Core Next, GCN, was the firm's first attempt at a design truly GPGPU focused; AMD will no doubt have learned many lessons, having much to change and improve.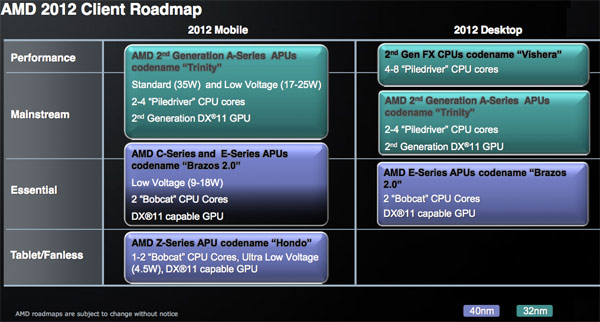 For the duration of 2012, 28nm will not be gracing AMD's CPU or APU line-ups, however the company is still looking to achieve an impressive 4.5 watts from its 40nm Z-Series 'Hondo' APU, which, with any luck, will find its way into high-end tablet devices. Meanwhile the C- and E-series 'Brazos' cores will receive a minor update to 'Brazos 2.0', keeping them competitive with the entry-level 'Ultrabook' or, rather, 'Ultrathin' devices, as AMD terms it.
We all knew that 'Piledriver', AMD's answer to the poorly-received 'Bulldozer,' was coming to our desktops and laptops, however with a low voltage, 17 to 25 watt variant, the 'Trinity' of Piledriver and a new second-gen GPU, could offer up some very serious competition to the Ultrabook market, offering the performance of the current 35-watt A-series line-up, at half the power consumption.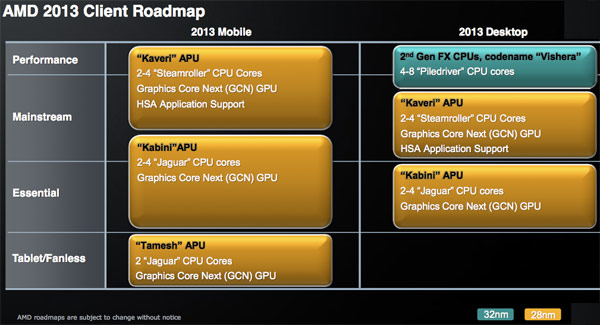 2013 is somewhat of a double-edged sword for AMD fans, with performance desktop offerings (Piledriver) remaining at 32nm. On the 28nm front the firm begins to reach its vision of a heterogeneous architecture, where CPU and GPU work together, with its high-end 'Steamroller' and low-end 'Jaguar' cores, paired with an evolved GCN GPU, featuring an advanced HSA feature-set for new programming and efficiency possibilities.
This is where we see the firm's earlier bold decisions either sink or swim, with the CPU 'gearbox' removed in favour of an automatic drive, easier to work with but at the cost of some performance; AMD has looked to mitigate some of its risks by relying on open standards such as OpenCL to access its new HSA-focused designs, accelerating uptake of the new concept.
We can only hope that the Piledriver design is 'all that' as it must withstand the test of time whilst the firm focuses on its HSA baby. In this respect, AMD is playing a risky game as opposed to becoming more diverse and open minded, it could risk permanently sandwiching itself between Intel and ARM, as opposed to simply exploiting a gap in the market.