A big step has been made in the quest for limitless clean energy. Scientists working on the development of the W7-X stellarator at the Max Planck Institute for Plasma Physics in Germany have tested its 'star in a jar' magnetic field contained containment chamber and judge it to be working as planned. Such containment is necessary to withstand the temperatures upwards of 80 million degrees Celsius generated by the 'star in a jar', here on earth.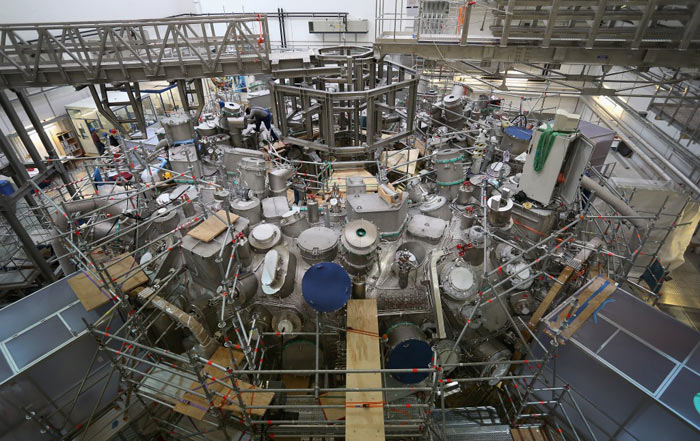 As explained on Space.com (via HardOCP) a traditional nuclear fission reactor splits heavy elements to generate large amounts of energy but "a fusion reactor works by fusing the nuclei of lighter atoms into heavier atoms." Benefits of fusion include a plentiful natural supply of the lighter elements used (such as hydrogen from sea water), massive amounts of energy released to power our homes, vehicles and devices, and "no radioactive waste" by-products (Helium gas).
The W7-X stellarator has been built to confine the incredibly hot hydrogen plasma necessary for this fusion process. If the 80 million degrees Celsius plasma wasn't confined in the magnetic field 'jar' it would instantly burn anything that was made to contain it. Thus it is a significant step forward.

In testing at the Max Planck Institute the stellarator generated its first batch of hydrogen plasma earlier this year. Now these latest tests with the 'star in a jar' confirm it can be contained in its 'magnetic cage', as theory suggested. "This lays the groundwork for the exciting high-performance plasma operations expected in the near future," said one of the project's lead physicists, David Gates.