AMD Hitman: Complete First Season promo
AMD has kicked off a new graphics card promotion. The new deal is aimed exclusively at would be Radeon RX 470 buyers. Only last week we learnt that buyers of the Radeon RX 480, or systems thus equipped, would qualify for a free copy of Civilization 6 - so it's good to see a freebie aimed at RX 470 buyers.
The Hitman: Complete First Season promotion is live now and will run until 22nd Feb 2017, or whenever the supply of key codes is exhausted - whichever comes first. You must use the code you obtain to redeem the game within two months of the end of the campaign. The AMD freebie includes the Hitman game released in January plus episodes and locations such as France, Italy, Morocco, and Thailand. Basically it's the game plus 10 months of live additions, DLCs and updates.
As mentioned above, RX 470 buyers qualify for the freebie. Buyers of pre-built desktops with this card installed also qualify. Please verify with the retailer that your hardware purchase qualifies before you buy.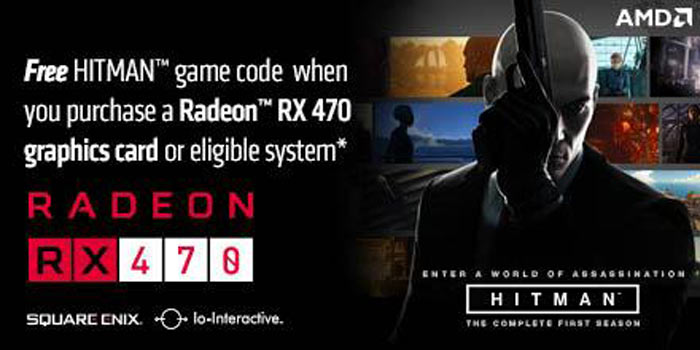 AMD previously bundled Hitman, when it was first released, with Radeon R9 390/390X & FX 6-/8-Core CPUs. Now the game includes DirectX 12 advanced features and is 'the complete first season'. This free game offer isn't valid in Japan or China.
Nvidia Watch Dogs 2 giveaway
Last week we saw reports that Nvidia was preparing a GeForce GTX 1080 and 1070 Watch Dogs 2 giveaway. Today the promotion went live and is precisely as detailed in our earlier report. The giveaway is highlighted in a new post on the Nvidia GeForce blog which is sub-headlined "Buy GeForce GTX10-series, get Watch Dogs 2 free." That is slightly inaccurate, unfortunately, because only the top two GTX10-series GPUs qualify for the freebie.

Qualifying purchases include GeForce GTX 1080 and 1070 graphics cards plus desktop and laptop systems with this graphics hardware pre-installed. The promotion is now live and available at many UK retailers including Scan Computers. The Watch Dogs 2 promotion runs from today until 19th December - or while supplies last. This is a worldwide promotion, excluding China.