We covered the news of the PowerColor Devil Box launch on the first day of the Computex Taipei show this summer. At the time we had plenty of details about the box, its usefulness, and the technology behind it but weren't provided with the all important pricing and availability details. Now PowerColor has come forward with these details.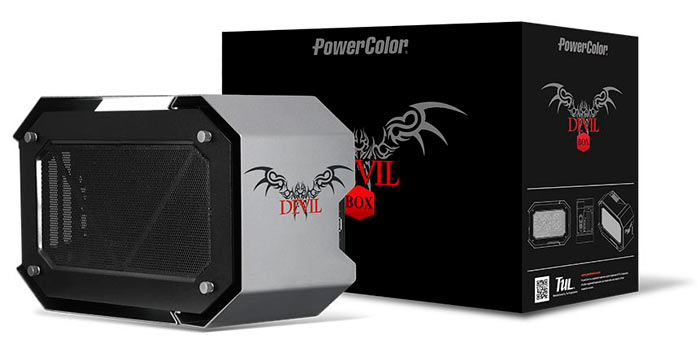 In an email to HEXUS, PowerColor says that the Devil Box is available right now at its retail partners on its own and in discounted graphics card bundles. However, we are told that supplies are "very limited" at this time. If you are interested in this external GPU box the following suppliers are said to have stock today: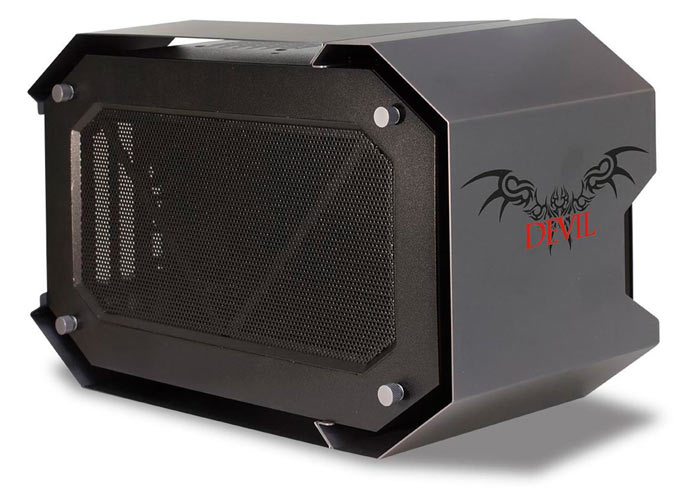 As a reminder of what the use of the PowerColor Devil Box is for, it is based upon AMD's XConnect Technology designed in collaboration with Intel and Razer. XConnect enables the connection of external GPUs via Thunderbolt 3. It is thought such eGPU devices will appeal to thin and light laptop owners who want to plug in when they get home and enjoy some high quality 3D PC gaming. AMD and its partners haven't locked down this technology in so far as various Nvidia GPUs are compatible with the system/enclosure.
Key specifications of the PowerColor Devil Box are as follows:
Chassis Size: 400 x 172 x 242 (mm)
Maximum Video Card Size: 310 x 140 x 50 (mm)
Maximum Video Card Power: 375W
Connection: Thunderbolt 3 (40Gbps cable)
Connectivity: 4x USB 3.0(Frontx1) + 1x USB 3.1 Gen1 Type-C, 1x Gigabit Ethernet, Laptop Charging via Thunderbolt 3 (PowerDelivery2.0 max. 60W)
Internal Power Supply: 500W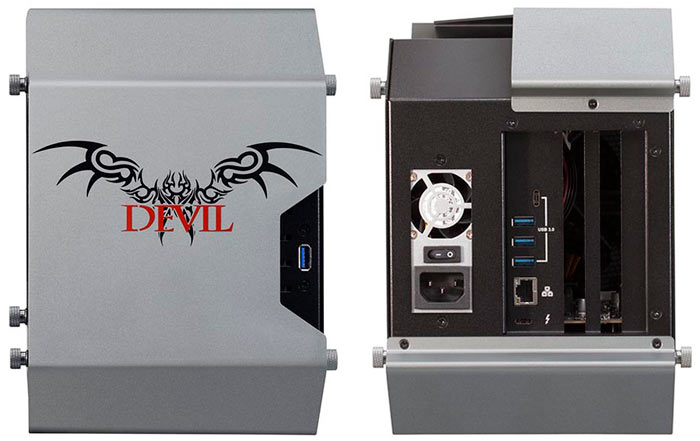 Full details of the Devil Box can be found on the official product page. However, please note the supported graphics card list in the specs tab hasn't been updated to include Radeon RX480 and Nvidia Geforce GTX 1000 series cards which are indeed compatible…
After a quick look through the store links above, I could only find the Devil Box listed on the German site, at the time of writing, where it is priced at the MSRP of €419. The US dollar MSRP is $379.