At the end of last week we published official looking leaked Nvidia presentation slides which crowed about the capabilities of the as yet unannounced GeForce GTX 1060 and directly compared the card to the new AMD Radeon RX 480. We had earlier had a hint at the GTX 1060's performance but the allegedly official slides drilled things down to show an approximate 15 per cent performance advantage over AMD's debut Polaris card.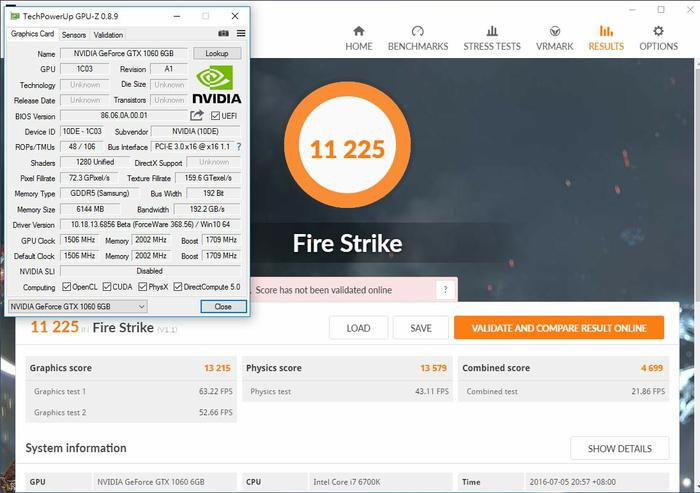 Now in the most revealing info leak yet, screenshots published by Chinese site XFastest, via Guru 3D, claim to show 3DMark Firestrike benchmark results of the GeForce GTX 1060 (6GB). The screens also include a GPU-Z window providing a smattering of important hardware info. We can clearly see key graphics card states like; a base/boost GPU clock of 1506MHz/1709MHz, 1280 shaders, 6GB of GDDR5 memory, 192-bit bus, offering bandwidth of 192.2GB/s.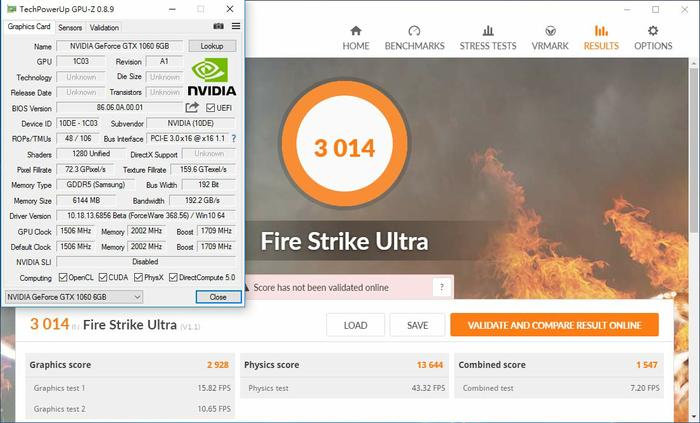 The system under test uses the key performance components of an Intel Core i7 6700K and, of course, the Nvidia GeForce GTX 1060 6GB. Both the standard 3DMark Firestrike and 3DMark Firestrike Ultra were run on the system, resulting in scores of 11,225 and 3,014 respectively. For obvious comparison sake, the HEXUS test system used the same Intel Core i7-6700K (but overclocked to 4.4GHz), with the Radeon RX 480. AMD's new Polaris card achieved 3DMark Firestrike and 3DMark Firestrike Ultra scores of 10,218 and 2,648 respectively.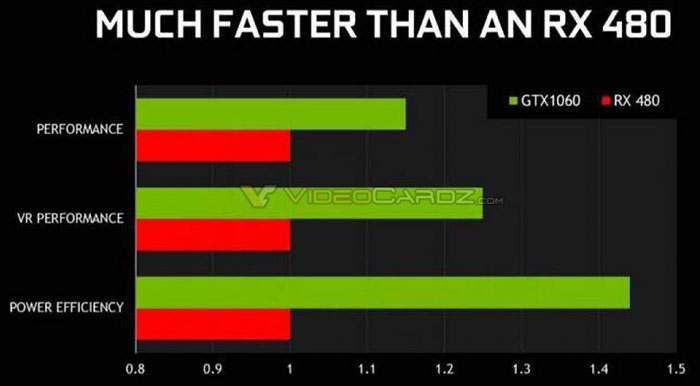 Previous information leaks pointed to a launch of the Nvidia GeForce GTX 1060 on 7th July, followed by retail availability a week later, from 14th July. So perhaps we don't have long to wait to learn first of Nvidia's official rose-tinted views on the GTX 1060, with tech press hardware dissections coming in the wake of that event.