Ahead of the weekend a bit of a controversy was stirring with both Asus and MSI being accused of sending out Nvidia GTX 1000 Series graphics cards that weren't exactly the same as the shipping retail versions. In a news post published last Thursday, TechPowerUp said that both Asus and MSI had employed "questionable tactics" to show their new GTX 1000 Series cards in a favourable light.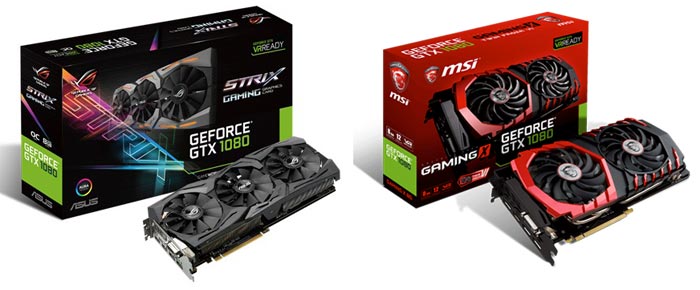 What seems to have been happening is that Asus and MSI are sending out cards to hardware reviewers with higher clock speed profiles than those enabled by default in shipping retail products under the same name. TPU's investigations found the following:
The Asus Strix GeForce GTX 1080 is sold with three clock speed profiles; silent, gaming, and OC modes. Reviewers would be sent cards set to OC mode while retail examples had the Gaming mode BIOS option preset activated. This would mean a freshly installed untweaked review graphics card offered a 1 to 1.5 per cent clock speed advantage.
The MSI GTX 1080 Gaming X review sample was observed to be pulling a very similar trick. This card, like the Asus one described above, also offers silent, gaming, and OC modes. Again the OC mode was default for review samples, reports TPU, showing this card in the best possible default way.
Just ahead of the weekend HEXUS received an email from an Asus representative admitting that it had supplied some reviewers with slightly different graphics cards to those on the shelves, as described above. I've embedded a copy of the statement below, in full.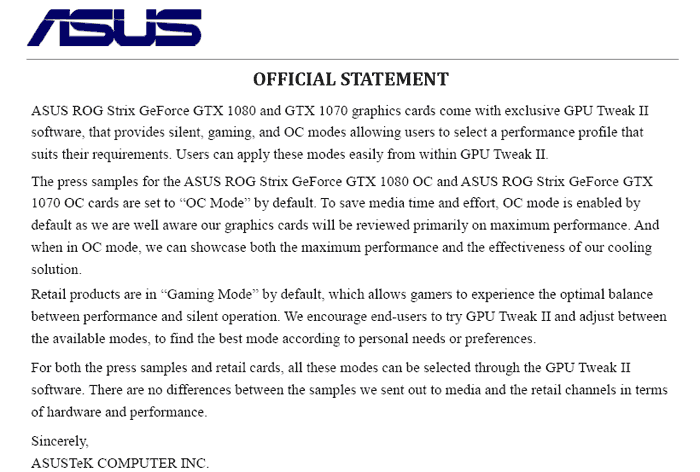 Looking back at the recent HEXUS reviews of Asus and MSI graphics cards we observe the following; Asus sent us a Strix GeForce GTX 1080 with OC Mode activated by default, contrary to what it says is the default mode on the official product specifications page.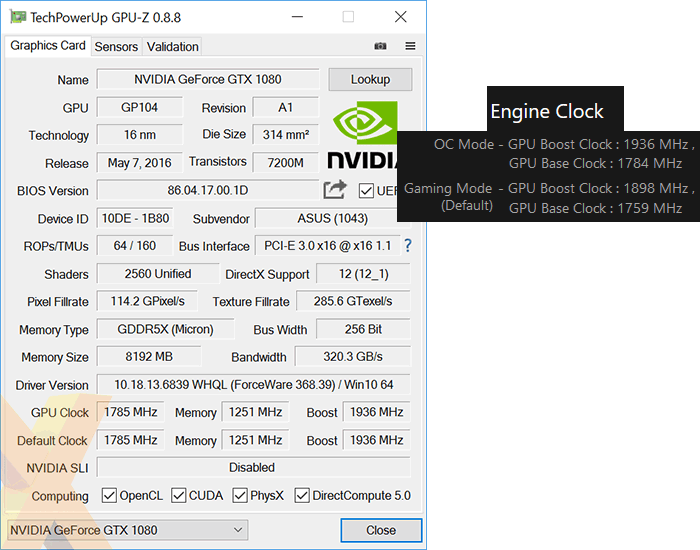 From our Asus Strix GeForce GTX 1080 review, official retail specs shown on the right
Our MSI GeForce GTX 1080 Gaming X graphics card was sourced from retail, so it came with the Gaming Mode profile activated, as can be confirmed by the official MSI product page. In our more recent MSI GeForce GTX 1080 Gaming X (retail) review, the MSI card was compared directly to the OC mode enabled Asus Strix but did not consistently chart lower across our range of gaming and other benchmarks.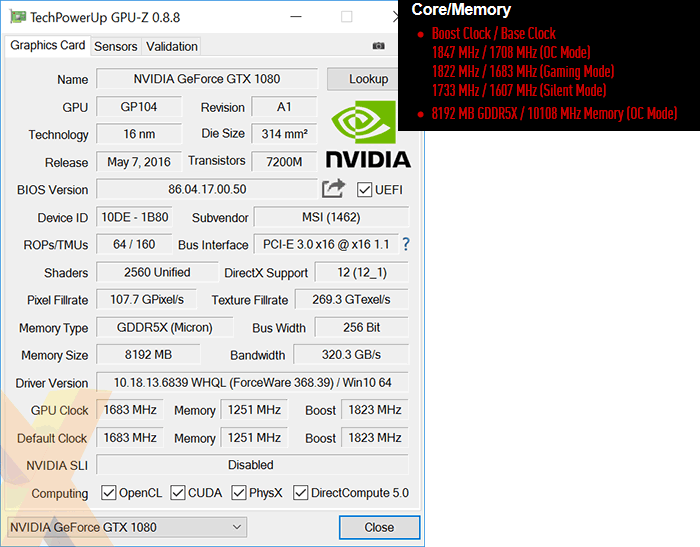 From our MSI GeForce GTX 1080 Gaming X review, official modes shown to the right
MSI has yet to send any official statement to HEXUS and I can't find any such statement from the company elsewhere at the time of writing.