During the AMD press conference discussion of the upcoming Polaris graphics cards, and in particular the Radeon RX 480, we saw a short demo of the cards, running in multi-adapter mode, pitted against Nvidia's latest and greatest – the GeForce GTX 1080. AMD demonstrated the 'Premium DirectX 12 performance' on offer from a pair of RX 480s (costing under $500 in total) running Ashes of the Singularity (AOTS). The slides and video showed that this multi-adapter solution soundly beat a single GTX 1080 – and did so with greater efficiency. Furthermore a pair of AMD RX 480s would be a significantly cheaper solution compared to a $700 GeForce GTX 1080 card.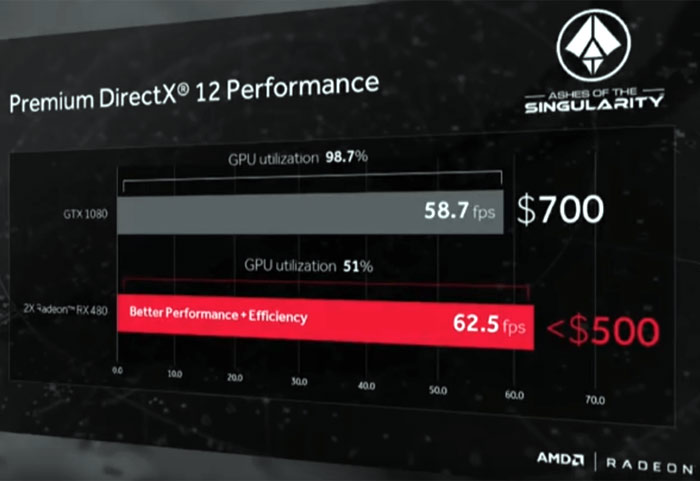 As a reminder of the presentation I have re-embedded the Polaris presentation video segment below. The AOTS demo begins around 8 minutes and 15 seconds onwards.
It is often the case that technical marketing presentations cause more questions to arise than they answer. So luckily for us AMD's Head of Global Technical Marketing, Robert Hallock, took to Reddit to try and quell any 'controversy' about the AOTS demo, and provide some background info on the testing methodology. Rather than snip parts from his explanatory post I have reproduced it in full below with Hallock's emphasis intact:
Concerning the AOTS image quality controversy

Hi. Now that I'm off of my 10-hour airplane ride to Oz, and I have reliable internet, I can share some insight.

System specs:

CPU: i7 5930K
RAM: 32GB DDR4-2400Mhz
Motherboard: Asrock X99M Killer
GPU config 1: 2x Radeon RX 480 @ PCIE 3.0 x16 for each GPU
GPU config 2: Founders Edition GTX 1080
OS: Win 10 64bit
AMD Driver: 16.30-160525n-230356E
NV Driver: 368.19
In Game Settings for both configs: Crazy Settings | 1080P | 8x MSAA | VSYNC OFF
Ashes Game Version: v1.12.19928

Benchmark results:

2x Radeon RX 480 - 62.5 fps | Single Batch GPU Util: 51% | Med Batch GPU Util: 71.9 | Heavy Batch GPU Util: 92.3% GTX 1080 – 58.7 fps | Single Batch GPU Util: 98.7%| Med Batch GPU Util: 97.9% | Heavy Batch GPU Util: 98.7%

The elephant in the room:

Ashes uses procedural generation based on a randomized seed at launch. The benchmark does look slightly different every time it is run. But that, many have noted, does not fully explain the quality difference people noticed.

At present the GTX 1080 is incorrectly executing the terrain shaders responsible for populating the environment with the appropriate amount of snow. The GTX 1080 is doing less work to render AOTS than it otherwise would if the shader were being run properly. Snow is somewhat flat and boring in color compared to shiny rocks, which gives the illusion that less is being rendered, but this is an incorrect interpretation of how the terrain shaders are functioning in this title.

The content being rendered by the RX 480--the one with greater snow coverage in the side-by-side (the left in these images)--is the correct execution of the terrain shaders.

So, even with fudgy image quality on the GTX 1080 that could improve their performance a few percent, dual RX 480 still came out ahead.

As a parting note, I will mention we ran this test 10x prior to going on-stage to confirm the performance delta was accurate. Moving up to 1440p at the same settings maintains the same performance delta within +/-1%.

----- quote ends ------
This certainly is an interesting statement, especially considering the efficiency claims for the RX 480 and the assertion that Nvidia 'fudges' terrain shader execution. AMD's attractively priced new Radeon RX 480 is scheduled for both launch and availability on 29th June.