Back when AMD XConnect was first announced there was only one compatible system, and one external graphics enclosure, both by Razer. Shortly after the initial announcement we heard that Intel's Skull Canyon NUC was AMD XConnect-ready and compatible with external graphics card(s) through a device "such as the new Razer Core" – implying more options were on the way. Yesterday we saw Asus announce its ROG XG2 graphics dock, which can provide powerful GPU performance to its new Transformer 3 convertible 2-in-1 machines, and now we have seen the PowerColor Devil Box join the competition.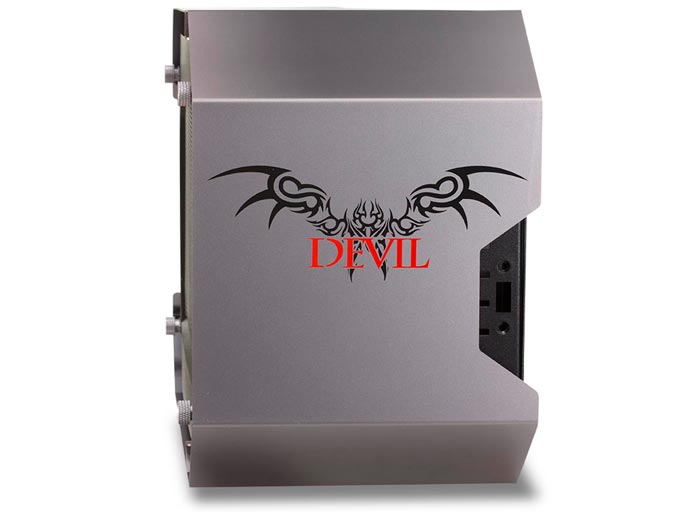 As put simply by PowerColor, the new Devil Box is "primarily for users who would like to have an even more powerful graphics card, whether Nvidia or AMD, on his/her notebook or mini PC in pursuit of desktop-class graphics performance". All you need is the Devil Box, a qualified graphics card, and one of the increasing number of compatible Thunderbolt 3 PCs. Solutions such as the Devil Box are said to be most suitable for users of thin and light laptops which, to maximise power efficiency and portability, don't have discrete graphics.
PowerColor's Devil Box includes a 500W PSU and can fit a graphics card with the maximum dimensions of 310 x 140 x 50mm. Overall the PowerColor Devil Box measures a substantial 400 x 172 x 242mm. The table below provides an at-a-glance list of the currently supported/compatible graphics cards from AMD and Nvidia.
AMD

Nvidia

AMD Radeon R9 Fury

AMD Radeon R9 Nano

AMD Radeon R9 300 Series

AMD Radeon R9 290X

AMD Radeon R9 290

AMD Radeon R9 285

Nvidia GeForce GTX Titan X

Nvidia GeForce GTX 980 Ti

Nvidia GeForce GTX 980

Nvidia GeForce GTX 970

Nvidia GeForce GTX 960

Nvidia GeForce GTX 950

Nvidia GeForce GTX 750 Ti

Nvidia GeForce GTX 750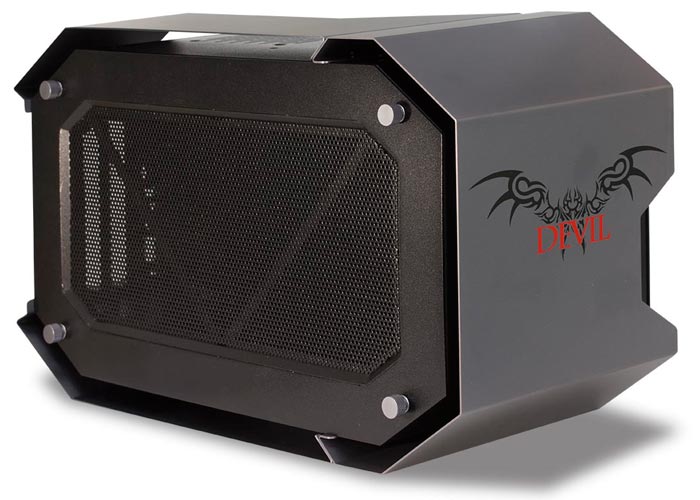 The PowerColor enclosure offers further functionality thanks to the provision of 4x USB 3.0 ports, 1x USB 3.1 Gen1 Type-C port, and Ethernet 10/100/1000. Furthermore, users can fit a SATA III 2.5-inch drive into the Devil Box for use as a backup, or games drive perhaps.
A Thunderbolt 3 cable and power cable are in the box. Pricing and availability are yet to be announced.