According to forum chitter-chatter picked up by Germany's 3DCenter.org, AMD will bring forward its VEGA GPU architecture launch to October this year. The reason behind the change to the roadmapped plans is simply to have competing products out there to rival Nvidia's recently launched GeForce GTX 1080 and GTX 1070.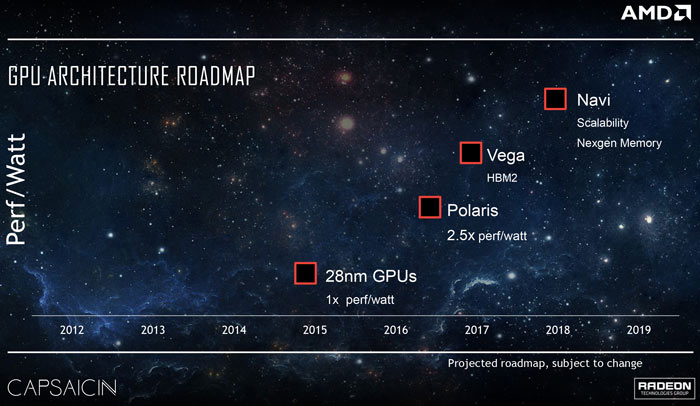 The AMD Polaris launch, just ahead of Computex, will focus on mid-market appeal and bringing "a historic leap in performance per watt" to PC enthusiasts. These first AMD Radeon R9 400 series graphics cards, based on the company's 14nm Polaris 10 and 11 chips will likely not be going head-to-head with the likes of the GTX 1080 but are to provide, approximately, Radeon R9 390 performance levels at under $300. Furthermore, we might not even see any AMD partner-made cards ready in time for Computex.
Thus AMD has to step up and get some competition out there and has decided to move the Vega 10 launch to October this year. Vega will be built using the 5th Generation Graphics Core Next architecture on 14nm, and was previously scheduled for early 2017. It will feature 4096-bit HBM2 memory and 4096 stream processors and be built to compete with the top of the Nvidia GTX 1000 series graphics cards. Vega 11, with an expected 6144 stream processors still won't make an appearance until sometime in 2017.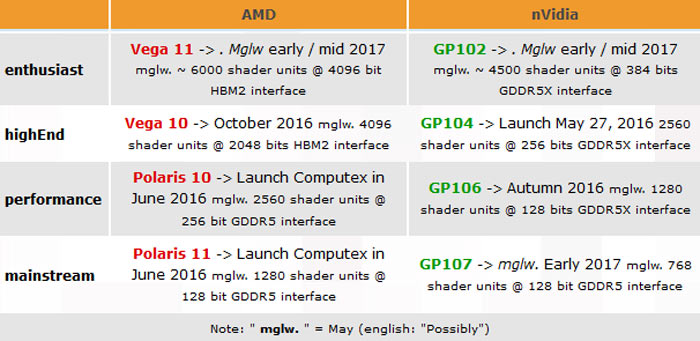 3DCenter has created the AMD and Nvidia comparative reference chart above, with the revised dates and expected specifications. Please take the above information with a pinch of salt, but we should be on much firmer ground with regard to where both red and green teams are heading within the month.