AMD has just announced an attractive new promotional hardware and games bundle. With effect immediately, Ashes of the Singularity will be bundled free with the purchase of a Radeon R9 380 Series graphics card (R9 380 or R9 380X). Buyers of pre-built systems equipped with either of these graphics cards will also qualify, according to the terms and conditions (PDF).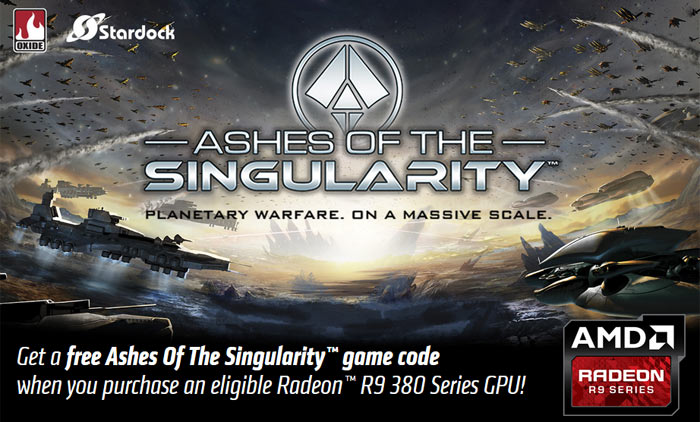 Ashes of the Singluarity rose from obscurity to our gestalt consciousnesses partly thanks to the canny move by its developers, Oxide Games, of creating one of the first DX12 ready and optimised games titles available (in beta, Early Access, final release due at the end of the month). Building a benchmark into 'Ashes' also helped raise awareness of the title among PC tech enthusiasts.
So, the game is famous due to its pioneering DX12 adoption, powered by the Nitrous Engine, does that mean you want it, and is it good to play? Ashes of the Singularity is a multiplayer real time strategy game (RTS) that is set in a war ravaged galaxy in the year 2178. With DX12, RTS games can be unshackled from the limits of units on screen and Ashes makes use of this ability so "thousands or even tens of thousands of individual actors can engage in dozens of battles simultaneously".
The game contains most of the features and requirements of RTS games you know, such as supply lines to be guarded, structures must be built, resources acquired, and logistics managed, amid the battles. It blends inspiration from Sins of a Solar Empire and Total Annihilation with game mechanics for planetary conquest influenced by the Company of Heroes games. On Steam Early Access the game is pretty well regarded, with a 75 per cent positive review metric. It is interesting to note, also on the game's Steam page, that the recommended graphics card spec (for 1920x1080 gameplay) is a 4GB GDDR5 Nvidia GTX 970 / AMD R9 390 or equivalent.
AMD's Ashes of the Singularity game code bundle promo ends on 15th May, or whenever the pile of free codes is exhausted, whichever occurs soonest. You must use your redemption code within two months of the end of the campaign. There is a limit of three codes per household.