AMD has officially introduced its XConnect Technology to enable easy plug'n'play usage of external GPUs. As was briefly covered in the news earlier today, of the Radeon Software Crimson Edition 16.3 (Hotfix) release, AMD XConnect Technology provides initial support for external GPU enclosures configured with modern Radeon GPUs connected via Thunderbolt 3. A new Radeon Software 16.2.2 graphics driver will be made available very shortly (this news release NDA expired at 2pm), featuring XConnect Technology.
AMD XConnect Technology has been developed by AMD, Razer and Intel's Thunderbolt group. It eschews multi-cable proprietary setups to adopt a single reversible Thunderbolt 3 (USB-C) cable / connector. The eGFX requirements are that four PCI Express lanes are provided by Thunderbolt 3, which gives the external solution up to 40Gbps of bandwidth (equivalent to a PCI Express 3.0 x4 slot), says AMD.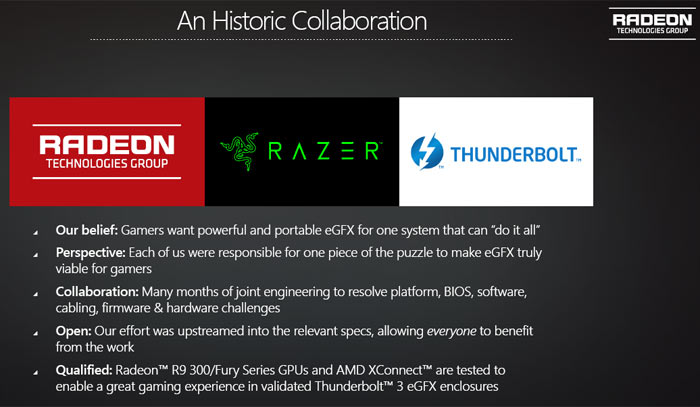 In the new AMD Radeon Software 16.2.2 graphics driver the following graphics cards are supported for eGPU deployment:
AMD Radeon R9 Fury
AMD Radeon R9 Nano
AMD Radeon R9 300 Series
AMD Radeon R9 290X
AMD Radeon R9 290
AMD Radeon R9 280
Mobile derivatives of these ASICs
PLANNED: Radeon dGPU products based on the Polaris architecture.
Further system requirements are as follows:
Radeon Software 16.2.2 (or later)
1x Thunderbolt 3 port
40Gbps Thunderbolt 3 cable
Windows 10 build 10586 (or later)
System BIOS ACPI extensions for Thunderbolt eGFX (check with vendor)
Thunderbolt firmware (NVM) v.16 (or higher)
Pass Thunderbolt certification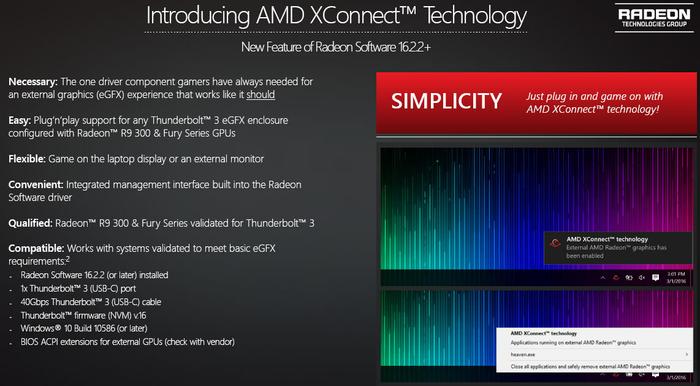 Discussing how these eGFX enclosures will function, AMD tells us that users with the above software/hardware will "not have to reboot their systems or give up hibernation capabilities" to utilise eGFX. Furthermore AMD XConnect "ensures that validated Thunderbolt 3 eGFX solutions can seamlessly switch between discrete and integrated graphics with no interruption to the host system". AMD's driver can identify which applications are running on external graphics at any given time and will have no problem handling a 'surprise removal', preventing inadvertent data loss or application hangs. Even so, it's best to 'safely remove external AMD Radeon graphics' via a system tray click.
At the time of writing AMD's XConnect Technology seems to be limited to use by the Razer Blade Stealth Ultrabook with Thunderbolt 3 and its accompanying external graphics chassis, the Razer Core. In the months ahead AMD "expects that validated Thunderbolt 3 eGFX solutions will ship in a diverse variety of form factors," including compact integrated devices or larger upgradeable enclosures suitable for user-upgradeable discrete graphics. External chassis makers will have their products validated for Thunderbolt 3 eGFX to ensure compatibility.