VESA has published the finalised specification for Version 1.4 of the DisplayPort (DP) Standard. This is the first major update of the standard since version 1.3, back in September 2014. The headline changes within the standard are the enabling of VESA's Display Stream Compression (DSC) 1.2 technology, the increasing of display resolutions to include 8Kp60Hz HDR deep colour and 4Kp120Hz HDR deep colour, plus expanded audio support.
VESA Board Chair Alan Kobayashi, a fellow and executive of R&D management for Smart Connectivity Group, at MegaChips Technology America, said "This significant update to the DisplayPort standard is vital to continued growth of adoption for both DP and DSC, particularly in such fast-growing markets as digital television and automotive infotainment". Kobayashi explained that DP 1.4 is purposed to help promote the use of displays with better resolution, wider colour gamut, and increased dynamic range.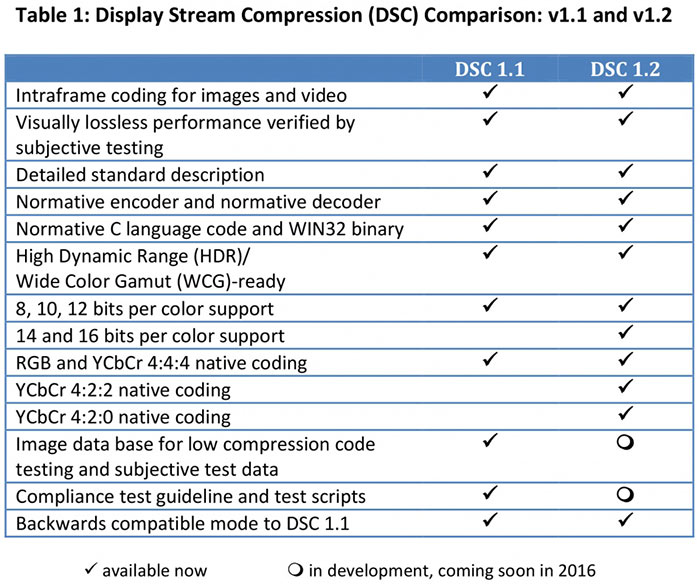 VESA's Display Stream Compression (DSC) technology aims to make the most of the available connection bandwidth. The organisation claims that it allows for up to 3:1 compression of the video stream with membership testimonials referring to it as "visually lossless". Forward Error Correction (FEC), is used to overlay the DSC 1.2 transport, providing transport error resiliency needed for compressed video transport to external displays.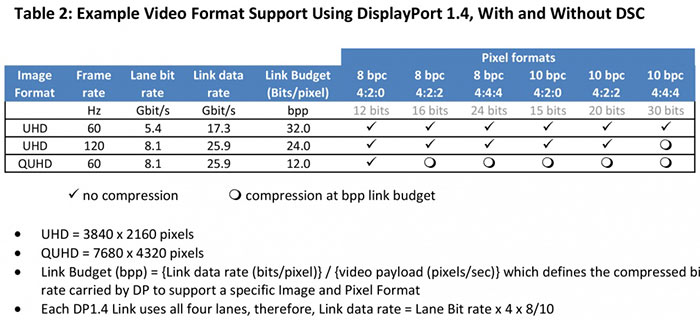 DP is already friendly to being adapted and incorporated into other connectors like the reversible USB Type-C interface and Thunderbolt connectors. Adding to its excellent utility value, VESA says that its Multi-Stream Transport (MST) capability enables high-resolution support of multiple monitors on a single display interface. Furthermore High Dynamic Range (HDR) and 8K video can be transported across the DisplayPort or USB-C connector. DP to HDMI 2.0a protocol conversion is catered for thanks to the HDR meta transport, with 'secondary data packet' transport, inherent in the DisplayPort standard, supporting the CTA 861.3 standard.
Audio capabilities have also been expanded with DP 1.4. All known audio formats are said to be included within its capabilities and it can support up to 32 audio channels and a 1536kHz sample rate.