AMD has launched the AMD FirePro S7150 and AMD FirePro S7150 x2 GPUs. With this launch AMD is offering the "world's first hardware-virtualised GPU product line". These GPU hardware products utilise AMD's Multiuser GPU (MxGPU) technology to provide virtualised GPU resources for remote workstations, for cloud gaming, or cloud computing, and for Virtual Desktop Infrastructure (VDI).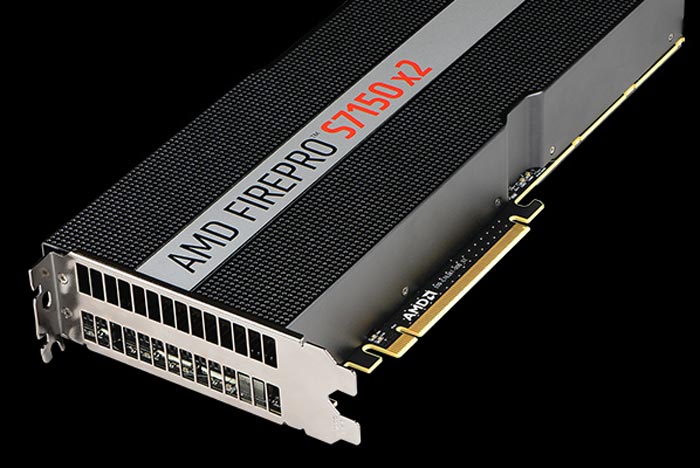 Previously CPU, network and storage devices had been virtualised in hardware but AMD has become the first to offer GPU resources this way. It claims that its MxGPU technology delivers the following benefits:
Delivers hardware GPU scheduling logic with high-precision quality of service to the user.
Preserves the data integrity of Virtualized Machines (VM) and their application data through hardware-enforced memory isolation logic preventing one VM from being able to access another VM's data.
Exposes all graphics functionality of the GPU to applications allowing for full virtualization support for not only graphics APIs like DirectX and OpenGL but also GPU compute APIs like OpenCL.
Sean Burke, corporate VP and general manager, Radeon Technologies Group, AMD, said that the new AMD FirePro S-series GPUs aim to "deliver a precise, secure, high performance and enriched graphics user experience– all provided without per user licensing fees". A senior VMware exec noted that the new FirePro GPU cards will give VMware Horizon users "a richer, more compelling user experience... with enhanced video and graphics performance, benefiting especially those installations that focus on CAD and other 3D intensive applications". Such technology is seen as something which will "gain significant traction in the coming years," according to Jon Peddie Research.
AMD FirePro S7150

MSRP $2,399

AMD FirePro S7150 x2

MSRP $3,999

Cooling/Power/Form Factor

Max Power: 150W
Bus Interface: PCIe x16
Slots: One
Form Factor: Full height/ Full length
Cooling: Passive heat sink or active cooling solution available

Max Power: 265W
Bus Interface: PCIe x16
Slots: Two
Form Factor: Full height/ Full length
Cooling: Passive heat sink

Memory

Size/Type: 8GB GDDR5
Interface: 256-bit

Size/Type: 16GB GDDR5 (2x8GB)
Interface: 256 bit

Compute Performance

3.77 TFLOPS single-precision and 250 GFLOPS double-precision peak floating-point performance
Error correcting code (ECC) memory support

7.54 (2 x 3.77) TFLOPS single-precision and 500 (2x250) GFLOPS double-precision peak floating-point performance
Error correcting code (ECC) memory support

API and OS Support

API Support: DirectX 11.1, OpenGL 4.4 and OpenCL 2.0
OS Support: Microsoft Windows 8.1, Windows 7, and Linux (32- or 64-bit)

Enabled AMD Technologies

AMD PowerTune technology
AMD Multiuser GPU technology

Compatible Virtualization Technologies

VMware ESXi 6.0 Hypervisors
VMware vSphere and Horizon suite of applications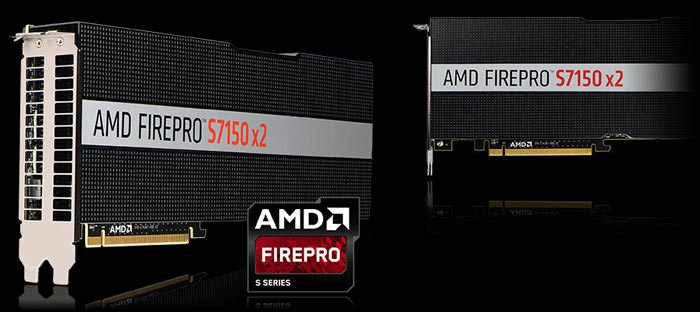 The AMD FirePro S7150 with its 2,048 processor cores and 8GB of GDDR5 can support up to 16 simultaneous users and the AMD FirePro S7150 x2, as you might mathematically expect, doubles that.
Availability is scheduled for H1 this year but attendees at SolidWorks World 2016 in Dallas, Texas, can currently see Dell server systems with AMD FirePro S-Series GPUs plus MxGPU technology on exhibit at booth 401, until 3rd Feb.
Nvidia's rival GRID technology can also provide server-based graphics resources to virtual machines. GRID uses Nvidia's proprietary CUDA programming language. AMD's advantages include OpenCL support to all concurrent virtualisation users and more generous licensing.