According to some Reddit discussions over the weekend, a number of AMD GPU users employing the latest Radeon Software Crimson Driver have suffered serious overheating issues. Some even say that their GPU has broken due to lack of adequate cooling. Apparently the final release of the Crimson driver has locked GPU cooling fans on some systems to 20 per cent. That cooling fan speed lock has been disastrous to some, pushing their systems with demanding games over a number of hours, for example.
As with many such bugs, the bug in AMD's latest driver software hasn't affected everyone. It looks like those who take more time to configure and adjust software and drivers before going on to use them were spared the worst affects of this bug. That is because such users variously applied custom fan profiles, monitored fan speeds and GPU temps after deploying these new generation drivers. If you just plugged-and-played you might not have been affected (yet?) or could have been otherwise lucky in your system configuration.
A few hours ago AMD officially acknowledged the bug and said it would issue a hotfix today. AMD Radeon Graphics Tweeted "We are aware of low fan speed reports on select GPUs with Radeon Software Crimson Edition. We intend to publish a hotfix on Monday." Several Twitter users asked what, if anything, will be done about people who had burnt, fried, toasted and other variations of killed-by-heat GPUs.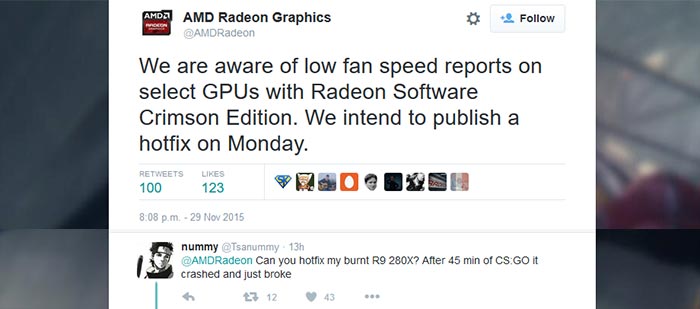 AMD released the Radeon Software Crimson last Tuesday backed by lots of bold claims over features and performance. After learning from user feedback of its Omega project the chip designer claimed Crimson would bring; "Performance-driven design, User-oriented functionality, and Trustworthy stability."
Have any HEXUS readers been affected in any way by the AMD Crimson fan speed bug?