A trio of slides detailing the advantages of employing GDDR5X in graphics cards have leaked online, reports VRZone. The slides are said to come from a major DRAM supplier's presentation deck. GDDR5X is promoted as a good choice for graphics cards makers going forward as it offers double the data rate per-pin and extends a well established standard, so will be easy to implement, adding money savings to its attractiveness.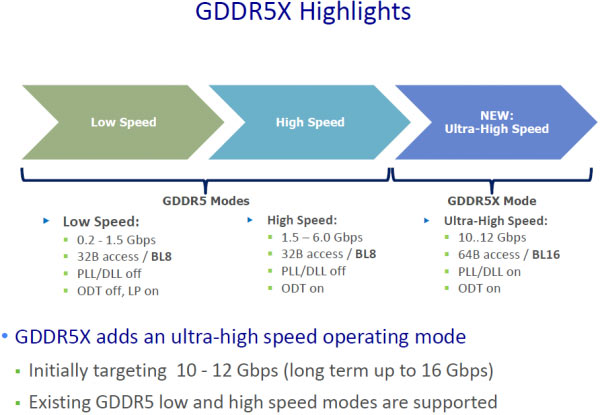 GDDR5X may indeed help graphics card designers at AMD and Nvidia transition between GDDR5 and the energy efficient HBM. The newer, improved GDDR5X is a simple upgrade to graphics card makers offering the "same interface signal pin count". It requires only "limited effort" to upgrade the GDDR5 memory controller on existing designs, it offers reduced power consumption and, perhaps most importantly "takes performance to a new level".
Looking closer at the performance you can see from the small graph, in the slide embedded below, that GDDR5X offers double the data rate per pin of GDDR5. Initially the DRAM maker from which these slides were poached, says that the I/O rates targeted will be between 10 and 12 Gbps. In years to come there is potential of achieving up to 16Gbps. Current GDDR5 tech has plateaued, offering an 8Gbps maximum bandwidth.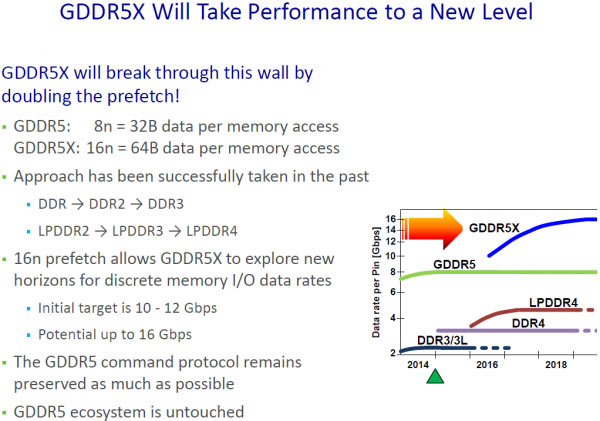 Previous rumours going around have suggested that some Nvidia Pascal GPUs will be deployed on graphics cards equipped with GDDR5X memory. A more recent report, mentioned in passing by VRZone, says that AMD will look into using GDDR5X with some of its next-gen GPUs.
Which memory maker is said to be the source of the above slides? According to VRZone's source, 3DNews.ru, and as evidenced by lesser-cropped slides at Golem.de, these GDDR5X slides come from Micron.