Gigabyte has quietly rolled out the GV-R9FURYWF3OC-4GD graphics card. This is an overclocked, triple fan WindForce 3X graphics card featuring AMD's Radeon R9 Fury (non X) GPU. The card features an out of the box core clock of 1010MHz which buyers can push further using the usual Gigabyte supplied OC Guru II software.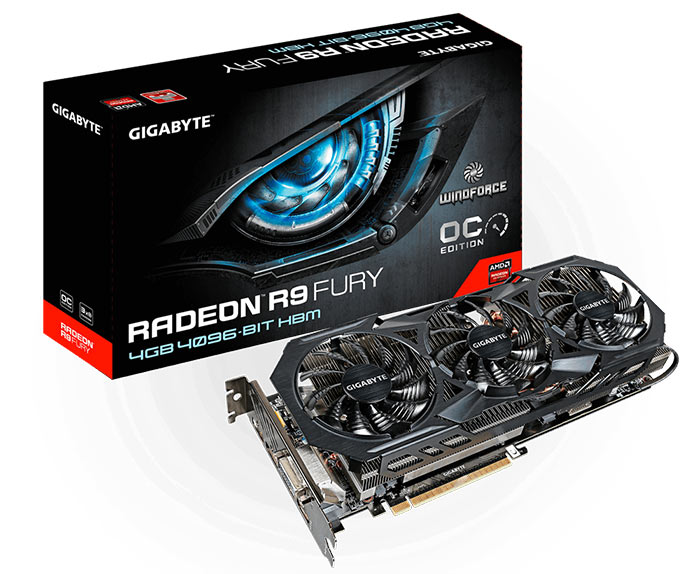 When AMD first let loose the Radeon R9 Fury we didn't get the usual array of vendors jostling to offer cards based upon the GPU. Before this Gigabyte WindForce 3X card was launched we only had examples from AMD specialists Sapphire and market leader ASUS to choose from. There could be a number of reasons for Gigabyte joining the party late such as; demand was judged to be insufficient, and/or GPU supply was too restrictive, and/or Gigabyte working on a custom design PCB. According to TechPowerUp the Gigabyte card does indeed sport "a full-length custom-design PCB by Gigabyte and doesn't reuse AMD's short reference-design board". Overall Gigabyte's AMD Radeon R9 Fury WindForce OC graphics card is a standard height but its bulk makes it a triple slot solution.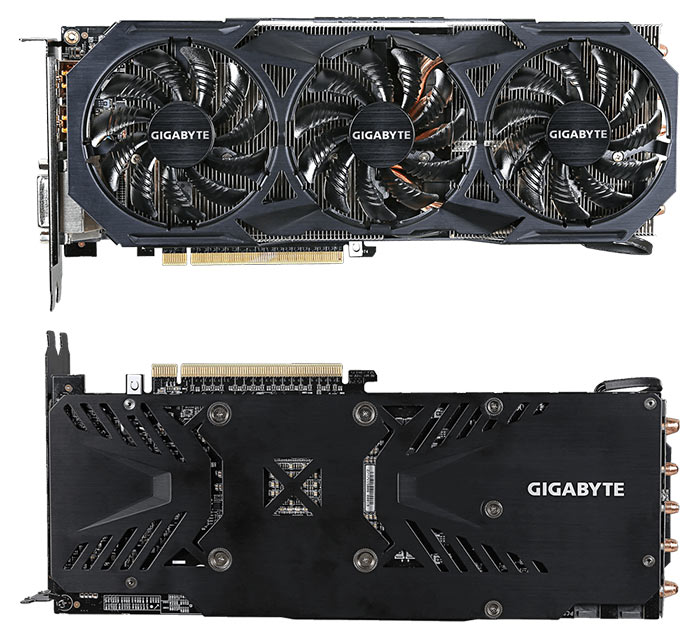 | | |
| --- | --- |
| Chipset | Radeon R9 FURY |
| Core Clock | 1010 MHz |
| Memory Clock | 1000 MHz |
| Process Technology | 28 nm |
| Memory Size | 4 GB |
| Memory Bus | 4096 bit |
| Card Bus | PCI-E 3.0 |
| Memory Type | GDDR5 |
| DirectX | 12 |
| OpenGL | 4.4 |
| PCB Form | ATX |
| Digital max resolution | 4096 X 2160 |
| Analog max resolution | 2048 x 1536 |
| Multi-view | 4 |
| I/O | HDMI x1/Display Port x3/Dual-Link DVI-I x1 |
| Power requirement | 600W (with two 8-pin external power connector) |
Looking through the pictures you can see that Gigabyte has fitted a full length metal backplate. A total of five video output ports are present, including three DisplayPorts and one each for HDMI and DVI connections. As with competitor cards, Gigabyte's R9 Fury requires 2x 8-pin power connectors and at least a 600W power supply is recommended. Pricing and availability are yet to be announced but we expect the price to be competitive with the examples currently on the market, at about $550.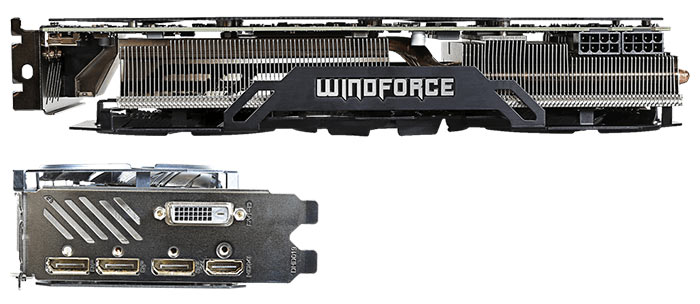 AMD Q3 2015 earnings call extras
At the end of last week we saw AMD publish its Q3 2015 results. The results were headlined by a loss of $197 million but AMD was still upbeat about the future and announced an important deal with Nantong Fujitsu Microelectronics. As is traditional, the AMD CEO took an 'earnings call' to dig deeper with investors, who put their money into backing the company.
WCCFTech has noted a few interesting nuggets of information coming out of the conference call. First of all Dr Lisa Su said that the Arctic Islands range of GPUs, which are scheduled for 2016, "is going to improve performance per watt by two times compared to our current offerings, based on design and architectural enhancements as well as advanced FinFET products process technology." Secondly the supply constraints affecting the AMD R9 Fury Series "are largely solved in the fourth quarter," so we should see more sales/more vendors making Fury series graphics cards. This easing of supply might have a bearing on Gigabyte's news, above. Last but not least AMD's Su all but confirmed that AMD Zen and K12 chip designs have been taped out.