Slides said to come from an AMD hosted presentation for AiB (add-in-board) partners have been leaked onto the internet. The subject of the presentation was the AMD Radeon R9 390X WCE (water cooled edition), that we mentioned in passing yesterday, before all these new slides emerged.
VideoCardz once again is the source of these slides. It simply asked its source, who delivered the previous Radeon R9 390X WCE overview slide, if he could provide further details. The authenticity of the slides is of course in question but much of the information ties in with previous information and expectations.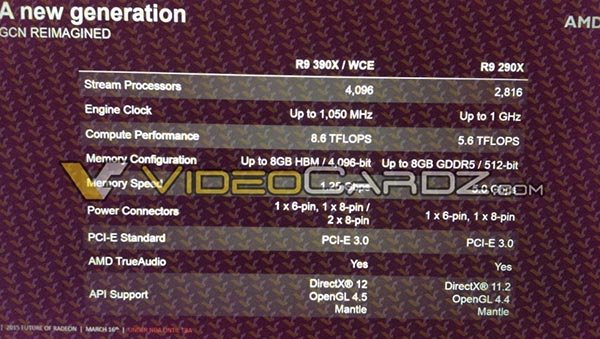 The first slide, reproduced above, compares the upcoming AMD Radeon R9 390X WCE with the current top single GPU card from AMD, the R9 290X. Atop of the table you see that the new graphics card offers 4096 Stream processors with an engine clock of 1050MHz offering a compute performance of 8.6 TFLOPS. The memory subsystem offers 8GB of the 2.5D HBM on a 4096-bit bus. Power can be supplied by either a 6-pin and 8-pin combo or a pair of 8-pin connectors.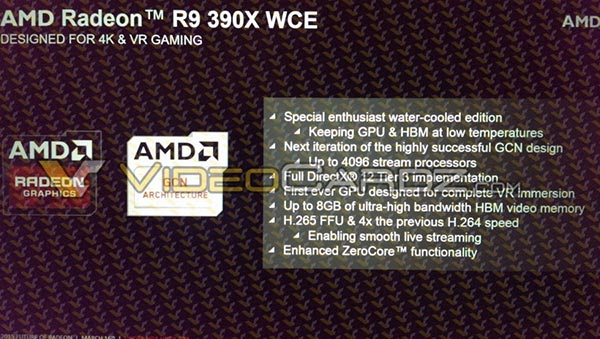 Above I've reproduced VideoCardz's overview slide boasting of the R9 390X WCE being "designed for 4K and VR gaming". The DirectX 12 Tier 3 card is said to be the first designed for full immersion in VR experiences. AMD has also implemented smoother, highly-compressed video decoding.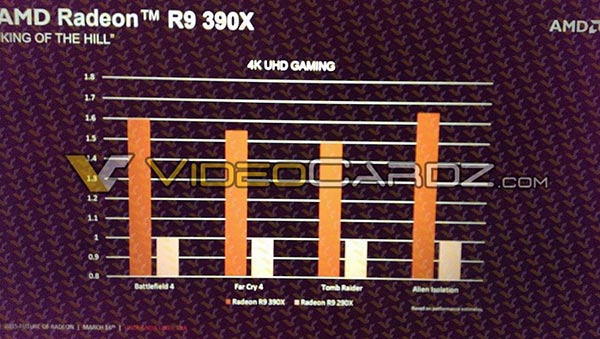 Last but by no means least AMD reportedly offered a tantalising glimpse of the performance on offer in some current PC AAA games we already know well. Above you can see a graph comparing the AMD Radeon R9 390X WCE with the R9 290X in PC gaming. These comparative results are from 4K gaming sessions in, from left to right; Battlefield 4, Far Cry 4, Tomb Raider and Alien Isolation. The graph's 'false bottom' axis starts at 0.8 to be more eye catching but 60 per cent performance uplifts are shown, on average, in these four popular games titles.
We recently saw some (synthetic) benchmark numbers said to be from Nvidia GeForce GTX Titan X graphics cards. After digesting so many leaks and rumours we are now waiting eagerly for 'high noon' when both these powerful graphics cards can be tested side-by-side, like-for like, trading punch-for-punch in the HEXUS labs…