AMD has announced that a Catalyst driver will be made available shortly enabling the use of FreeSync technology for those with the requisite hardware. The new driver will be released on 19th March, available to the public via AMD.com, and enable FreeSync for single GPU configurations. CrossFire users will have to wait until April for a further update to enable FreeSync on their setups.
The statement, referred to above and published by WCCF Tech, is reproduced below:
AMD is very excited that monitors compatible with AMD FreeSync technology are now available in select regions in EMEA (Europe, Middle East and Africa). We know gamers are excited to bring home an incredibly smooth and tearing-free PC gaming experience powered by AMD Radeon GPUs and AMD A-Series APUs. We're pleased to announce that a compatible AMD Catalyst graphics driver to enable AMD FreeSync technology for single-GPU configurations will be publicly available on AMD.com starting March 19, 2015. Support for AMD CrossFire configurations will be available the following month in April 2015.
AMD FreeSync technology has been created with the hope of eliminating screen tearing issues without introducing lag and latency. AMD claims that it "synchronises the refresh rate of a compatible monitor to the frame rate of your content, however much it varies."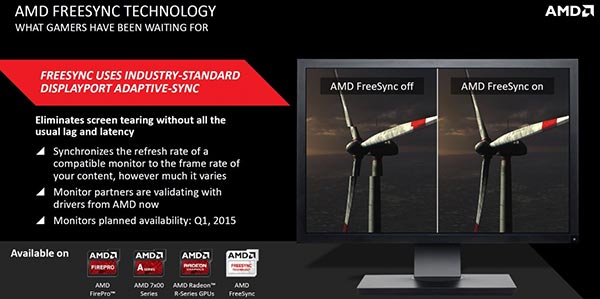 Once the driver becomes available there will be a good number of systems ready to benefit from the technology straight away. The reason is that the necessary pc components and monitors supporting FreeSync tech are already being sold. It helps that FreeSync is based upon an industry standard Panel Self Refresh feature in the Adaptive-Sync standard which is part of the DisplayPort 1.2a specification.
There are eleven FreeSync compatible monitors due to be available by the end of this month, reports WCCF Tech. Making up the list, three are already available in Europe; the BenQ XL2730Z, LG Flatron 34UM67 and Acer Predator XG277HU. The range of monitors being lined up includes a variety of 'gaming' high-refresh (144Hz) capable FHD and QHD displays and - at the other end of the spectrum - 4K monitors with 60Hz maximum refresh rates.
On the GPU side of the equation AMD Radeon HD 7000, HD 8000, R7 or R9 Series will all support FreeSync for video playback and power saving. The Radeon R9 295X2, 290X, R9 290, R9 285, R7 260X and R7 260 GPUs and Kaveri, Kabini, Temash, Beema and Mullins APUs will enjoy dynamic refresh rates for gaming, video playback and power saving.
More information and supporting manufacturer announcements are expected on the 19th March.