Nvidia is about to expand its range of mobile GPUs to flesh-out the mid and lower range 900M series according to graphics card leasksters VideoCardz. The source says that, unlike the rushed out 800M series which were output in haste due to laptop maker demand for a refresh, the new 900M series are indeed all latest architecture 'Maxwell' parts.
HEXUS has reviewed a number of laptops with the higher end mobile Maxell GPUs including, only last week, the Aorus X3 Plus v3 packing a GTX 970M GPU, and the MSI GT72 2QE Dominator Pro, sporting a GeForce GTX 980M, way back in October last year. We also had a good look at the GTX 980M and 970M GPUs in a separate article, looking at how Nvidia claimed it would 'narrow the gap' between laptop and desktop graphics, just before any supporting laptop hardware became available for testing.

click to zoom in
VideoCardz has put together a clear side-by-side table showing how the Nvidia GeForce 800M and 900M series compare in terms of GPU used, CUDA counts, memory bus width, and maximum graphics RAM installed. If you look at the comparison table, above, you will notice that some intergenerational changes are wholly down to the architecture used. For instance the GeForce GTX 860M and GeForce GTX 960M laptop parts offfer the same number of CUDAs, same bus width and maximum installed RAM. The newer generation will be wholly dependent upon Maxwell's architectural advantages and any clock speed hike possible (remember no overclocking) for better performance.
While we don't have any dates for the upcoming mid and lower range 900M series GPU availability VideoCardz has spotted some in listings in the wild. For instance Asus ROG G551JW for instance will be employing the NVIDIA GTX 960M with 2GB of GDDR5 memory to propel pixels at its 15.6-inch 1080p screen, while the Acer Aspire V Nitro VN7-571G and Lenovo ThinkPad T550 20CK009XS will be fitted with NVIDIA GT 940M GPUs.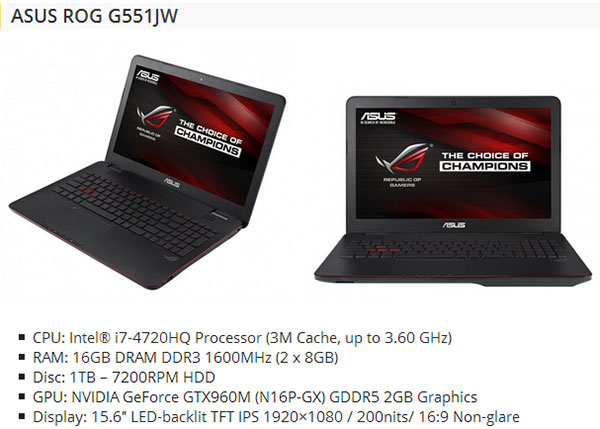 We will publish any official Nvidia announcement and reviews of laptops sporting the above mobile GPUs as soon as we have them in.